Fan of Donnie Yen? We sat down with Donnie Yen to talk about his role in Rogue One – Chirrut Imwe. Read this interview and others from the #RogueOneEvent.
Donnie Yen is well known in Hong Kong as not only an actor, film director, producer and action choreographer but is also an incredible Chinese martial artist and multiple-time world wushu tournament champion. His next role? Chirrut Imwe in Rogue One.
Donnie Yen plays Chirrut in Rogue One: A Star Wars Story
We had a chance to sit down and talk to Donnie Yen about his role in Rogue one. Donnie described his character, Chirrut as the "spiritual center of the team. He's the force believer." All of the above along with a sense of humor.
Chirrut is blind but was not originally. Donnie talked about how he contributed to this change with his character. He says it was a collaboration and when he sat down to talk with Director Gareth Edwards, he thought that the character would be "so much cooler" if they made him less of a "cliché character" and more of a "warrior monk." By doing this, they were able to give Chirrut some vulnerability.
Donnie commented that it was by his persistence that they keep Chirrut grounded but also give him a sense of humor so that the audience could relate to him.
From the portion of the movie that we saw, I think this definitely comes through with the character. I really liked what I saw and am looking forward to seeing more of Chirrut.
Donnie Yen has an incredible fan base that loves seeing him in action so how does he continue to stretch himself to the limits with martial arts?
That's a funny question, right?  Because I've been in  business for quite a while, 70 movies, right?  And a lot of audiences, my fans in particularly. I have a different set of fans.  Straight action fans and Donnie Yen fans.  But without realizing the changes of every film in the past decade of my films.

It wasn't so much of what I'm gonna do with my body each time, but different characters that I try to take on.  I've done, besides action movies, I've done comedies, romantic, all kinds.  I played a monkey king where I insist on not recognizing my face.  I just wanted to take challenges as an actor.

I don't look at myself as oh, this is this guy who does really good, he specializes in the action field.  Right?  But I wanted to be perceived as a good actor and striving to be a better actor each time.  I never played a blind person before.  That was another reason why I wanted to do something completely different, challenging.

It was really challenging and I underestimated the difficulty of playing a blind character because it was hard.  Having those contact lenses you think, it looks interesting but having to take them off every three hours and let it rest because it irritates your eyes and every ten minutes I needed drops.  It bothers me.  Very irritating.

And you can't really see. Somehow they couldn't manage to, I know with technology today, they still were not able to manage to make a blue pair of contact lenses and having that specific look and giving the full clarity of my sight.  So I was having difficulty measuring, measuring the distance. But, more difficult wasn't even about the seeing clearly. It was more as an actor I couldn't look at my fellow actors in their eyes and I couldn't get to all reactions.  When I'm talking I have to look at a point.  And that was very, very frustrating because I didn't wanna look, without the complexity of each line and the emotion.

So I was fine-tuning my acting every single day.  It was quite frustrating as you feel like you're not in control of yourself, where you're supposed to have all these years of experience being an actor.  So that was quite difficult.
It's interesting that they decided to make Chirrut blind and how that pushed Donnie Yen to portray the character. Donnie commented that because Chirrut is blind, he has to feel, he has to use his heart which puts the character even closer to the force.
Now, would Donnie prefer his character to fight with a bow caster or a lightsaber? I love what Donnie has to say about when his fans found out that he was going to be in Star Wars.
It's funny when my fans found out that I was gonna be in this movie, everybody thought I'm gonna be a Jedi and have a lightsaber and go against Darth Vader.  But it eats me up.  I couldn't really say anything so I couldn't tell  anyone that there would be no Jedi in the movie.  I don't know.  If they give me a lightsaber I believe I can probably.

I don't think anyone else after this Rogue One and a future Star War is they're gonna have a hard time if they let me swing…  Maybe that's why they don't want to give me the lightsaber because then you won't have the story because you just center it to go against Darth Vader and take on The Empire with a lightsaber.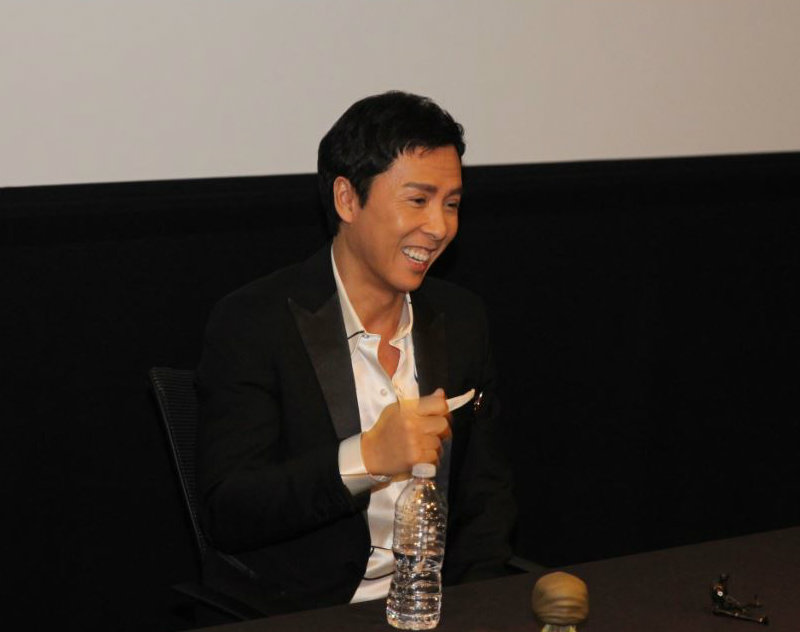 Now was filming Rogue One as physcially grueling for him as it was on some of the other characters? You'd think with his background that it might not be. 

I just do it.  It's like a musician.  You play music all your life and it's just jump in there. I actually play music myself.  I play piano. As an actor who specializes in physical expressions, for me it was just dive in…
With his martial arts background, did he give his fellow cast members tips or pointers on their choreography?
Not so much!  I recall I gave Felicity pointers here and there, but I didn't want to interrupt what they were doing.  I didn't want to overwhelm them, bombard them with, "Oh, this is what you need to do," because you can get really technical with these types of specific knowledge.  So I shared general kind of directions, especially with safety and some pointers here and there.  But I didn't want to interrupt anybody from them crafting their own character.
I love how several of the actor's kids pushed them to be in Rogue One. Here's what Donnie said as to how he came part of the film.

My agent called me and they said, "Disney wants you to be in Star Wars."  Then Gareth called. He really felt I have the persona of portraying this character in his mind and  that was the answer I was looking for as an actor.  I know it sounds crazy, but in the very beginning, I was hesitant coming on board.  I know "Star Wars," I mean I didn't want to leave my family, my kids and be in London for five months.  I just got off from another movie and I live in Hong Kong.

And I said, "I don't know."  Then I went to my kids, Jasmine and James.  They were at the time maybe 11 and 7 or 12 and 8.  I said, "Do you want Baba to be in Star Wars?"  Without a doubt, they said, "Star Wars!"

Then all the family members and friends and all the fan voices came out of nowhere and say, "Oh!"  They found out about it and said, "You gotta be in Star Wars!  You gotta be in Star Wars!" I realized I'm making history here, you know?  So I'm so glad.
What a fun interview! I think you're going to love Donnie Yen's character Chirrut. Not too long to wait now!
Rogue One: A Star Wars Story opens in theaters December 16!
ROGUE ONE: A STAR WARS STORY follows a group of unlikely heroes in a time of conflict who  band together on a mission to steal the plans to the Death Star, the Empire's ultimate weapon of destruction. This key event in the Star Wars timeline brings together ordinary people who choose to do extraordinary things, and in doing so, become part of something greater than themselves.

ROGUE ONE: A STAR WARS STORY is directed by Gareth Edwards and stars Felicity Jones, Diego Luna, Ben Mendelsohn, Donnie Yen, Mads Mikkelsen, Alan Tudyk, Riz Ahmed, with Jiang Wen and Forest Whitaker. Kathleen Kennedy, Allison Shearmur and Simon Emanuel are producing, with John Knoll and Jason McGatlin serving as executive producers. The story is by John Knoll and Gary Whitta, and the screenplay is by Chris Weitz and Tony Gilroy.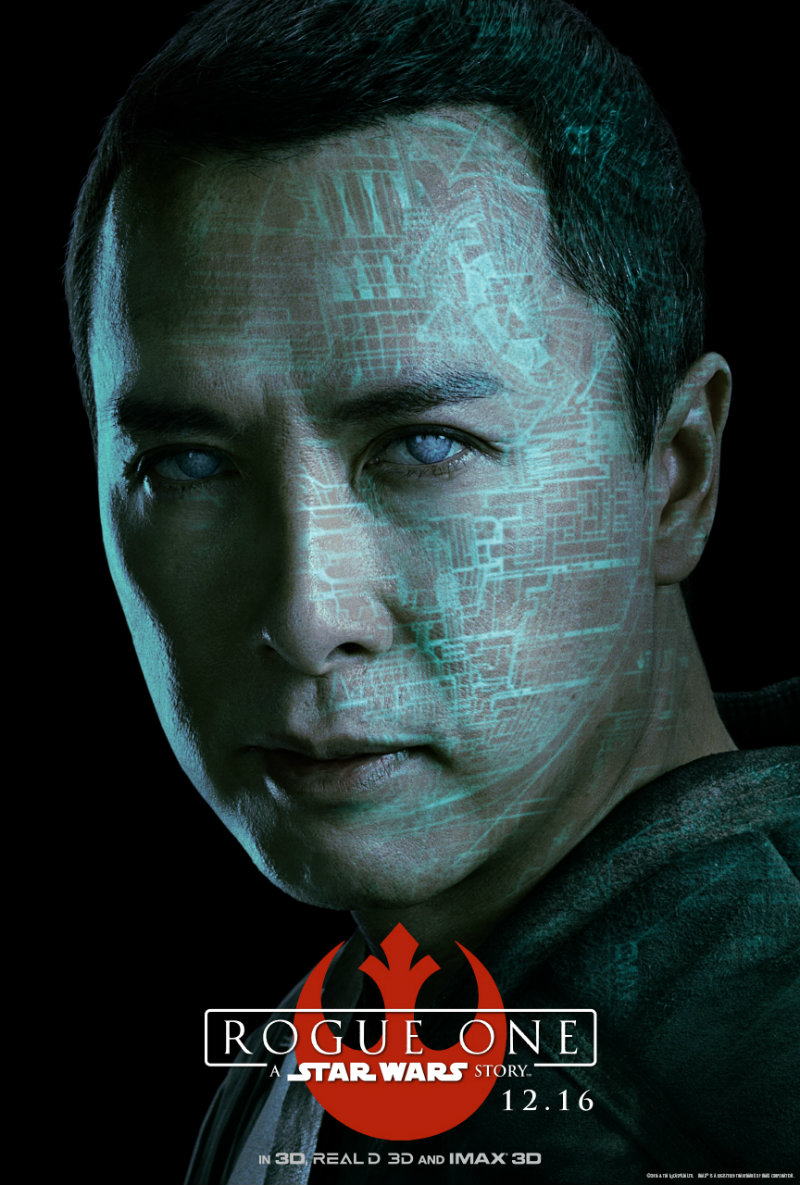 Facebook | Twitter | Instagram | YouTube | Official Website
ROGUE ONE: A STAR WARS STORY arrives in theaters everywhere on December 16th In RealD 3D and IMAX 3D!