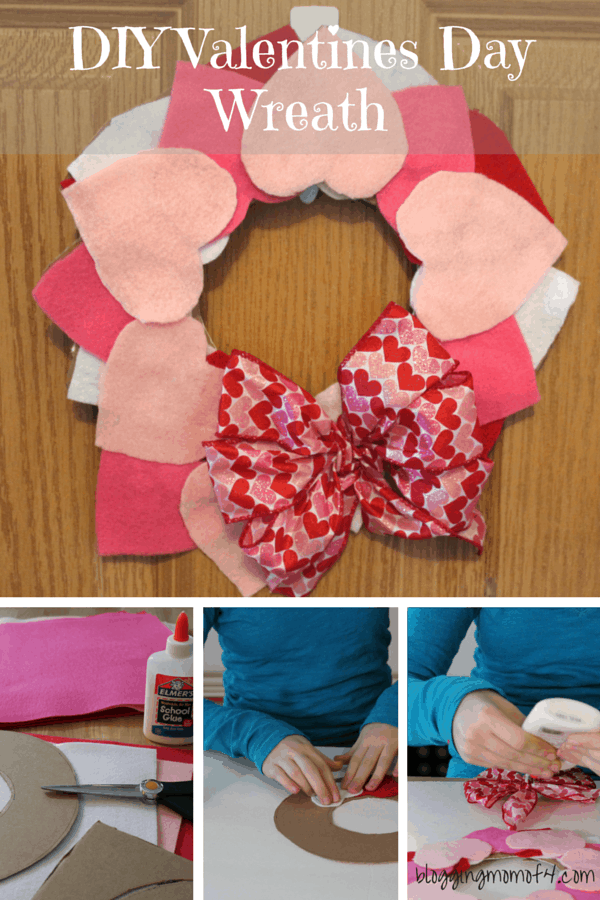 This DIY Valentines Day Wreath is a quick and easy craft that you can do yourself or with your kids. This one was made by my 12 (almost 13) year old daughter. She loves crafts, creating, drawing, painting, etc.
You have a lot of versatility with this one. You can make it big or small. You can also make wreathes for all the different Holidays. As long as you have different colors of felt, you can be really creative with this one.
First, let's start with what you'll need.
scissors
felt
cardboard
glue
paperclip
heart for tracing
ribbon
How to make your DIY Valentines Day Wreath
First step is to find a piece of cardboard. We used a large cereal box but you could also use a pizza box or any cardboard. Trace a large and small circle on your cardboard in whatever size you'd want. This is going to be the backdrop for your wreath.
Carefully cut your piece of cardboard to make your wreath.
Next, you're going to trace and then cut out your heart shapes from your felt. We used a heart shaped cookie cutter for tracing. Otherwise, I'm sure you can find a heart online to print out and use for tracing. Felt can be picked up at any craft store. Buy whatever colors you'd like. For this DIY Valentines Day Wreath, we used white, red and different shades of pink.
Once you have your felt hearts cut out, you're going to glue them onto the cardboard wreath. You can make whatever pattern you'd like.
Using your ribbon, create a beautiful bow and add it to your wreath.
We used a bent paperclip as our hanger. All you need to do is pull out the shorter side of your paperclip slightly and then tape the longer side to the back of your wreath.
Viola! You have your very own DIY Valentines Day Wreath.
Here's a quick video tutorial as well. 🙂