DIY Automatic Shower Cleaner
Busy moms need great cleaning solutions, right? We need ways to keep our house clean that are quick and easy..oh and that won't break the bank. I love Scrubbing Bubbles shower cleaner, however, buying those refills really adds up. So I went looking for a DIY Automatic Shower Cleaner replacement.
The other problem I have with my automatic cleaner is that it cleans the top half of my shower but not the tub area. Do you have that problem too? My tub is a whirlpool tub…sounds wonderful but it's a PAIN to clean. Trying to keep those jets clean is terrible. So what I want is a replacement for my automatic cleaner and then the same thing but in a spray bottle so I can get my tub too. Here's what I found.
Automatic Shower Cleaner
If you already have Scrubbing Bubbles bottle, you can re-use it. Take the bottle and carefully remove the cap using a small plyers.
Spray Bottle Shower Cleaner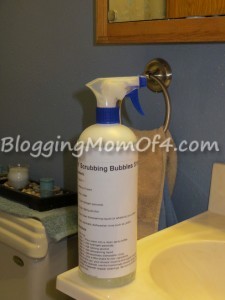 Now here's the same thing but I used this one in a spray bottle so it has the water measured out in ounces. The other thing I did was print out the instructions and taped it right to the bottle. That way, I have it and can refill when needed. I also used clear packing tape to cover the paper completely to water proof it a bit. 🙂
Prior to first use, clean shower thoroughly. Then spray daily to maintain and/or use your DIY Automatic Shower Cleaner daily.