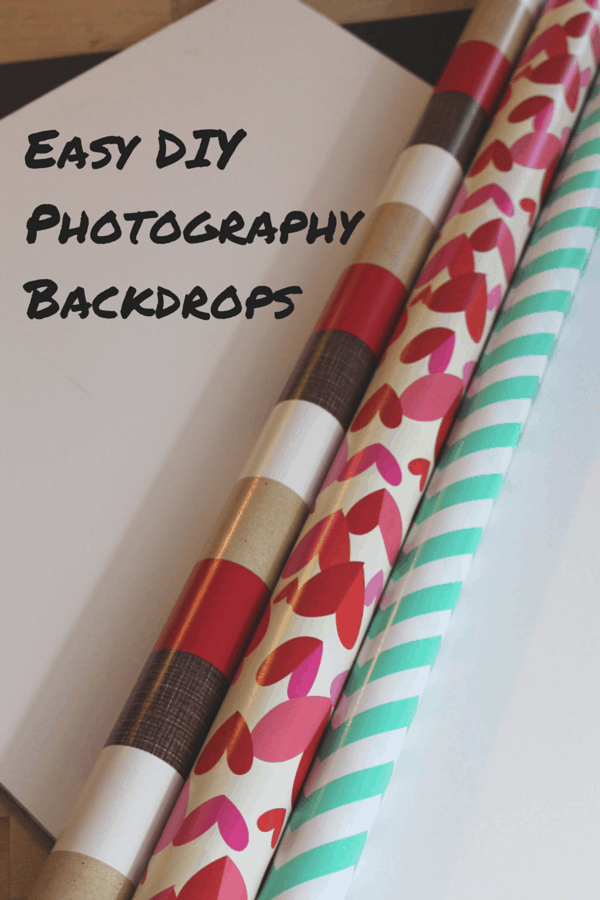 For those of us that are taking pictures often, we start to accumulate props, backdrops, lighting equipment, etc. It can get really pricey and add up over time.
The last thing I wanted to pick up is some Photography Backdrops. I had an idea to make my own to save a little money. It was very easy and I made 3 DIY Photography Backdrops for under $15. And since each of my backdrops is double sided, I still have room for one more.
Here's the simple instructions.
Easy DIY Photography Backdrops
All you need is a few of your favorite wrapping papers. If you find the double sided designs, you'll save even more money. You'll also need a few poster boards, some tape (I used packing tape) and a scissors.
I purchased the poster boards at Walmart for $2.97 each. Each of the wrapping papers were $2-4. But then I'm sure you can find cheaper wrapping paper if you shop clearance, sales, after Holiday, etc.
Once you have all of your supplies, just lay out your wrapping paper like you're going to wrap your poster board. If you cut it exactly to size, you can do a double sided DIY Photography Backdrop. One gift wrap paper per side.
When you have one or both sides cut, carefully tape up all edges of your board, smoothing and pulling tight as you go.
And that's it!
I staged some things so I could take some quick pics with my new DIY Photography Backdrops.
A couple of extra tips:
1. If you have a lined paper, make sure your lines are straight before you tape. Otherwise, you'll have a crooked backdrop. Unless that's what you're going for. 😉
2. Look at which way your design is going to make sure you're making your backdrop the way you want it. Ie: horizontal or vertical.
Super easy to do and you can make endless different DIY Photography Backdrops. Just be on the look out for awesome gift wrap designs. Especially during the different Holidays. You'll find a lot of different wraps to make Holiday specific backdrops.
Once you have beautiful pictures with your new backdrops, use this photo book creator to create a beautiful keepsake!
Have fun making your own DIY Photography Backdrops!