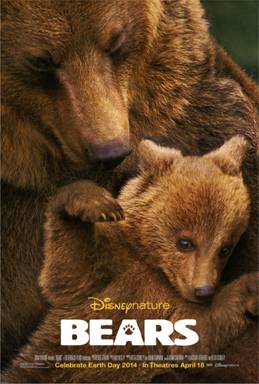 I've come to really enjoy the films that come out from Disneynature on Earth Day. They are some of the most breathtaking films. Ones that we can enjoy as a family.
This year, Disneynature has brought us Bears. While in LA for a press trip, we were able to screen Disneynature's Bears. Let me tell you, it is such an incredible movie. What this mother bear and her cubs go through for survival is just extraordinary. I just kept thinking… what a mother bear wouldn't do for her cubs. That giant mama bear and I have a lot in common when it comes to our kids.
I loved seeing Sky with her cubs Amber and Scout. Here's a little bit about Bears.
Disneynature Bears
Rated: G

Release Date: April 18, 2014

In an epic story of breathtaking scale, Disneynature's new True Life Adventure "Bears" showcases a year in the life of a bear family as two impressionable young cubs are taught life's most important lessons. Set against a majestic Alaskan backdrop teeming with life, their journey begins as winter comes to an end and the bears emerge from hibernation to face the bitter cold. The world outside is exciting—but risky—as the cubs' playful descent down the mountain carries with it a looming threat of avalanches. As the season changes from spring to summer, the brown bears must work hard to find food—ultimately feasting at a plentiful salmon run—while staying safe from rival male bears and predators, including an ever-present wolf pack. "Bears" captures the fast-moving action and suspense of life in one of the planet's last great wildernesses—Alaska! Directed by Alastair Fothergill ("Earth," "African Cats" and "Chimpanzee") and Keith Scholey ("African Cats"), "Bears" arrives in theaters April 18, 2014, to celebrate Earth Day.
Disneynature's Bears is in theaters TODAY! I really encourage you to take the family and see it opening week! See Bears opening week and Disneynature will make a donation to the National Park Foundation through the Disney Worldwide Conservation fund to protect wildlife and wild places.
One of our favorite vacations is always driving from Wisconsin to Washington State where my husband's family is from. We love the drive across country because there are such beautiful National Parks. Including, of course, Yellowstone National Park. To get to see these creatures in their nature habitat is just amazing yet we really only get to see a glimpse.
Disneynature's Bears gives us an up close look that we normally wouldn't get. I'm just amazed at what the camera crew is able to film. It's like we are right there, living and struggling with this mama bear and her 2 cubs. Just amazing!
If you're a Bears fan, you'll love these cases! DODOcase introduces a limited edition collection of iPad Air, iPad Mini and iPhone 5/5S cases featuring a custom BEARS design. 20% of each sale will go directly to the NATIONAL PARK FOUNDATION. Visit http://www.dodocase.com/search?q=bears to purchase and learn more.
Go see Disneynature's Bears this week with your family!
Topic: Disneynature's Bears