Today we're meeting Kaitlin Olson voice of Destiny. Photo Credit Sara Lundberg / BudgetSavvyDiva.com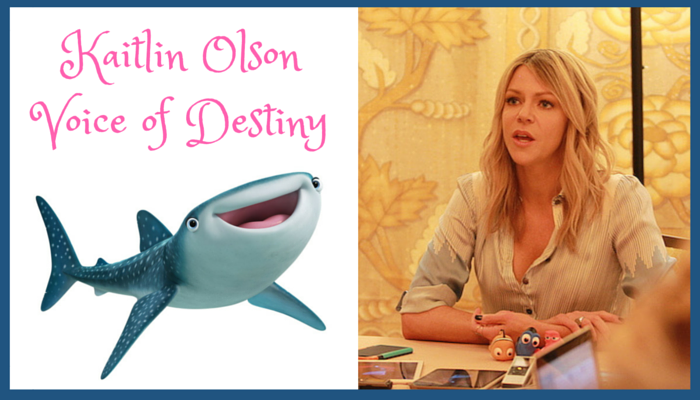 Destiny is a new character in the franchise. She is a lovable whale shark who has a lot of trouble swimming. Did you know whale sharks are the biggest fish in the sea?
Destiny lives in the Marine Life Institute, where one day an oddly familiar blue tang named Dory falls into her pool.
I LOVED meeting Kaitlin. She is a mom, just like most of us. She juggles her career and being a mom and always tries to find the best balance.
And when I say like most of us she truly is. She walked into the interview room still eating a cookie. How many of us run from one thing to the next, eating on the go or multi tasking as much as we can? It's just the mom way of life, right?
Since she is a mom, the first question asked was what her kids thought of the movie and if they liked it.
They loved it. My little one was scared, he was like, I hated it. I hated the movie, I was like, why did you hate it, and he was like, I didn't like the scary squid. I was like, I'll give you that, there was a scary squid. My older- my oldest one loved the scary squid- Thought it was really funny and really sweet.
It's funny because I think the question was asked in each of our interviews about a favorite scene. Several said that any scene with Tiny Dory in it was amongst their favorites. I'd have to agree. The voice is just precious and Tiny Dory with those huge eyes… just love her!
You know what, liked all of the scenes with Tiny Dory, that little baby Dory was so cute, her voice, I was like get out of here. It was like, that's why I love Pixar movies so much, you can truly get emotional when you're watching them, you know what I mean, like they're funny and they're fun to have in the background if you're kids are watching a movie but I actually am invested in the movie, I'm like oh my god they love you, they're trying to help you. Yeah it was she's just so sweet, all that stuff I thought was because it moved me.
Speaking of favorite character, I really loved Destiny. I think she's a great addition to the Finding Nemo, Finding Dory family. Kaitlin was asked what her favorite characteristic of Destiny was.
I like that she can't swim well and that she's imperfect, you know, there's just something so great about that. And about all of these characters that there's something imperfect about all of them, in that they still are making it happen and helping each other out. That's what I like about her most I think.
Kaitlin needed to speak whale for her role as Destiny. I can't imagine what it must have been like to use your voice that way for hours at a time. Here's what Kaitlin had to say about speaking whale.
I try not to speak whale as often as possible because I had to do it so much, but Andrew and Lindsey were so funny. At the end of every session they were like, okay sorry but- sorry but we just need a little bit more whale. Sorry, sorry, sorry, I'm like okay, I just feel so dumb doing it …embarrassing.
Landing a role in any Disney or Pixar movie would just be so incredible. So why did Kaitlin want to take part in Finding Dory and what does this iconic movie mean to her?
I think Pixar movies are amazing, they really truly are my favorite kids' movies, Wall-E, Toy Story all of them, they're just amazing movies, they're sweet, they have good messages. And I honestly when I found out about the project before I even found out what kind of character it was going it be, instantly I was like yeah-yeah-yeah yeah-yeah-yeah anything yes. Um, because I'm on a show that's for adults, you know, It's Always Sunny in Philadelphia is not something we let our children watch.

So I was really excited to do a kids' movie. You know, I had at the time I had one baby and I was pregnant with my second one, so it has been four years, now that little one is four and he came to the premier last night, I know it was pretty cool. I wanted to do something they could watch.

I seriously feel so incredibly honored to be a part of this movie for that reason. It's a quality project. I believe in- I feel like I'm repeating myself, but all the Pixar movies now they're- they really relate to adults and children, it's a movie that you want to- I'm really focused on movies and shows that you want to sit down and watch with your family, because that's just where I am in my life now too. I remember going to the movie with my family, it was like kind of of a special thing for us. We didn't go very often.

And sitting down together on Thursday nights to watch Cheers, you know what I mean. And it's important to me to find stuff and work on things where we can all kind of get excited and watch together. So I just feel just incredibly honored to be a part of it for yeah for that reason, I just- I believe in Pixar's model and I really love this movie and I think it's going to be around for a while.
I love the relationship between Destiny and Dory. The question was asked how that relationship will relate to kids and adults. The best quote from this is when Kaitlin said, "Family is really what you make of it." Isn't that so true? Dory is a prime example that not all families have to be a like.
Plus, she tells a story of something that her son struggles with that is a great message for us all.
You know, nobody has a perfect life, nobody is perfect, and that's okay. I'm specifically dealing with that with one of my sons who's just a perfectionist. And he gets so so so upset, I mean even the Legos will fall apart and it's not- and it really is the end of the world, and he feels personally like he is a terrible person. He- that's like a theme of his whole life and I've been trying to tell him for a long time, like nobody is perfect I promise and he does not believe me, he really thinks he's supposed to be. So that's, that's a message in this movie that really resonates for me personally- it's you don't have to be perfect. No- and it's- there's no such thing.
Now Destiny is close with Bailey a Beluga whale played by Ty Burell. Kaitlin talks a little bit about what it was like working with Ty.
I got to work twice with Ty, which was the most fun. Ty is truly the sweetest, kindest, funniest, most generous person. He's amazing, I loved working with him.

[The back and forth with him is so fun.]

Yeah I mean that's the thing. You can't really get that unless you- a lot of people don't like to work like that, a lot of people like to work alone. But I'm much more of an actor's actor, we improvise a lot on my show, it's just kind of what I'm used to, and it was great for me to be able to work with him, we come up with a lot of cool stuff that way.
How long was Kaitlin working on this film?
I probably did eight or nine sessions over four years. But each of them are like a five hour, four or five hour session, maybe more. Yeah it, it was great, because you go in and you have this great fun day and then you have like a month off and then they send you a new script and it's different and things have changed and the character is changed and you get to go back in and do it again.

And the truth is Andrew Stanton is a really-really wonderful director. It's no secret- surprise that my favorite Pixar movies are ones that he's worked on, I just like his sensibility. And he's wonderful with actors. He's great at giving direction in a way that he helps you figure out how you want to do it differently, you know what I mean. And so they were just really fun sessions.
What other challenges did Kaitlin have for this role?
Well when they decided that Destiny would be a bad swimmer, because that kind of came through in the middle of the process, he really wanted me to like sound wobbly like I was having a hard time swimming so they got me this weird like balance board thing that he wanted me to stand on … the problem is, guys, I have such great balance that I just was like faking, faking being off balance.

It was just it was so weird, we tried a whole session like that and I was like, guys, can we- can I just try standing here and doing this we got rid of the balance board. … it sounds like a silly answer but that truly was kind of a challenge, because you lose your voice, there's a lot of yelling that I like to do in my acting and like all that stuff or screaming for Dory or stuff like that, I would lose my voice and then I, I know that we are closing our session, I'm not going to see them for a month, I don't want to blow the last hour

And I'm like oh I should be a better vocally trained actor using my diaphragm better, you know, like the tea and throat sprat. That was main- that was probably yeah I would say like beating myself up about losing my voice too early was a challenge, because there was a lot of yelling, even just like calling for her places and the whale, oh the whale [LAUGHTER] speaking whale. It'll get you.
Does Kaitlin have any tips on achieving that work/life balance?
That's a fantastic question, my kids are one hundred percent my priority, so I don't take things that will take me away from them too much. I recently agreed to do this pilot called The Mick, it just got picked up on Fox, so I'll be shooting that next year and luckily we're mid season, so it's just going to be twelve episodes this coming first season. And I said I wanted to produce it so I could make sure that it was not only the vision that I wanted.

But that I could also have a little bit of control over the schedule. I always want to be there for bedtime, there are times when I miss it. But it's rare that I go a day without seeing them. If I do, I'm there for- in the morning, you know what I mean. I just do the best I can, like everybody is. You know, lot of working moms out there. And I have the luxury of being able to have them come to me after school and play in my trailer and I can't always hang out with them, because I'm working, but at least they're close and they feel like I'm not too far away.
What else is in the works for Kaitlin?
Well we're currently in production for season twelve of It's Always Sunny in Philadelphia, that's what we're doing right now. I took the day off for this it's pretty exciting. Um, and then yeah The Mick on Fox will be airing at the end of this year and that's about it for right now.
Last question for Kaitlin was What role humor plays in her life.
It's number one, well patience is number one and then humor. I'm constantly, you know, at the end of a hard day, it's just been like, why couldn't you have just laughed when he wrote on the wall, rather than you know what I mean. Like it's of utmost importance. Um, and that's yeah it's a huge part of my life. Our set and our Mick set will be filled with people who are kind to each other and funny, because we're all putting in all these hours and having a gigantic long day.

You don't want to hang out with people who are filled with drama and entitlement issues … So yeah parenting… as long as I can be a total goofball and they think I'm a goofy idiot, I'm perfectly happy with that.
What a great message!
Be sure to tune in the rest of the week for my Finding Dory coverage!!
Finding Dory is in theaters June 17th!