This article is sponsored by Yoplait Greek 100 Whips! All opinions are my own. #whipitup #150calories #snackhackwhipitup
Since my weight loss surgery, I am eating a lot more yogurt. It's easy to get down, packs a lot of protein and is a good dessert or snack.
I have been trying a lot of different yogurts. Specifically greek yogurts because they tend to have more protein in them. Some have been ok, some not so great.
Yummy Dessert ONLY 100 Calories
Then there's the Yoplait Greek 100 Whips! These are delicious!! So light, fluffy and full of flavor. They make a great dessert only 100 calories and they have 9 grams of protein!
I do not eat a lot of carbs in the day. I try to focus on protein and less on the carbs. But I miss the crunch. My solution to this? A wonderful granola with protein. Sprinkle a little on top of my yogurt and I get protein and that crunch that I'm missing.
Yum!
Now this does make my Dessert a bit more than 100 calories but if you're concerned about the extra calories, just leave off the granola. You could also add some fresh fruit, drizzle a little chocolate or caramel syrup. Such a great dessert without the guilt.
Popular flavors of Yoplait Greek 100 Whips! include: Vanilla Cupcake, Strawberry Cheesecake, Lemon Meringue, Raspberry and more.
Want to try Yoplait Greek 100 Whips! for yourself? Print out this great coupon before you head to the store. I found my Yoplait Greek 100 Whips! at Walmart.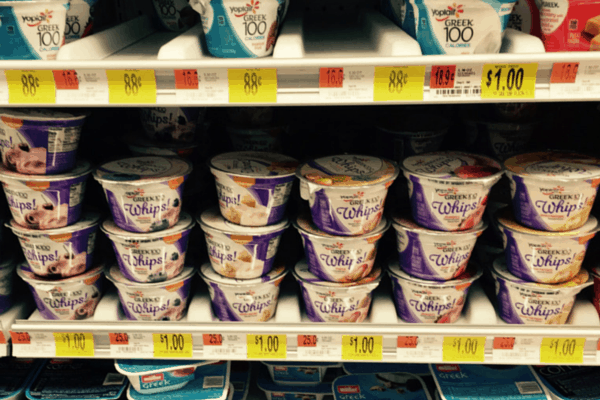 The coupon will be automatically "clipped" once you visit this page. You can print the coupon by selecting the red "Print Coupon" button in the top right of the page.
Details of the coupon offer:
The SAVE $1.00 ON FIVE Yoplait® when you buy FIVE CUPS any variety Yoplait® Greek, Yoplait® Greek 100 or Yoplait® Greek 100 Whips!® yogurt
PLEASE NOTE: offer is void in NV, NJ & ND
Need more recipe inspiration? Find more Yogurt Greek 100 Whips! recipes here.
What are your favorite low calorie desserts?