Disclosure: I received Dazzlepro Smilepacks for review purposes only.  Regardless, all opinions are my own.
Dazzlepro Smilepacks Review
We all want to "wow" people with our smile as someone's face is usually the first thing we see upon meeting them.  I don't know about you, but a person's teeth and/or smile are very noticeable and can tell a lot about a person. I like my smile to be nice and bright. But then that's not super easy with my daily coffee that I drink. There's so many things that can stain our teeth.
There are lots of factors can contribute to someone's teeth and how they look or don't look; medication, hygiene, genetics, diet, age, etc.  Aside from taking care of our teeth doing the typical things such as brushing regularly, flossing, using mouthwash and visiting your dentist, some might choose to use Dazzlepro Smilepacks.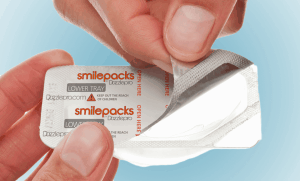 Easy, 3-step whitening system
Convenient, disposable upper and lower teeth trays
7-day supply
Latex-free, leak-free solution
Comfortable, one-size-fits-all nylon fit
Pre-filled, pre-measured product — no syringes, application or mess
Gentle, effective ingredients (e.g., enamel-friendly hydrogen peroxide vs. abrasive carbamide peroxide)
Cool mint flavor
20-45 minute daily treatments
High performance: results visible in 3 days, complete makeover in 7 days
Designed for whitening natural teeth only
Longer results and greater oral health enhanced by the Dazzlepro Advanced GT Sonic Toothbrush
11% Hydrogen Peroxide Solution

Ingredients: Glycerin, Water, Hydrogen Peroxide, Silica, Carbomer, PVP, Potassium Hydroxide, Dipotassium Phosphate, Flavor, Sucralose, Citric Acid, EDTA, Sodium Lauryl Sulfate
7 Day Dazzlepro Smilepacks are priced at $129.99, but the folks over at Dazzlepro are offering Blogging Mom of 4 readers a 70% discount!!! Just use coupon code BloggingMom813 to get yours at the low price of $39.00 today. This link will take you to the page to order.
I love the fact that the trays are pre-filled and ready to go. That was one issue that I've had with whitening systems in the past. All you need to do is open one Smilepack, insert the trays and wait 20-45 minutes. You can see results in as early as 3 days.
Topic: Dazzlepro Smilepacks