Disclosure: I received Dave Ramsey Piggy Banks in order to facilitate this review.  All opinions are my own.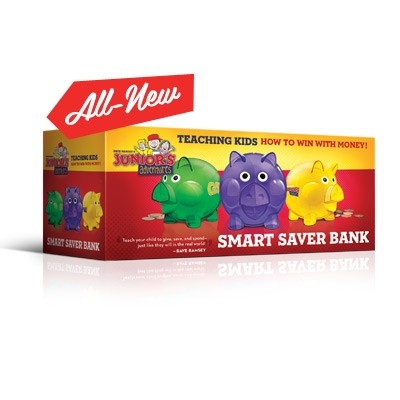 Dave Ramsey Piggy Banks
Does the name Dave Ramsey ring a bell?  He is an influential leader in reducing and eventually eliminating debt.  Of course, saving is also important.  It's just as important to pass info like that on to our children.  Dave Ramsey Piggy Banks are a great learning tool for this topic.  The set comes with three different piggy banks to make the idea of giving, saving and spending easy.  They come in three different colors and are also transparent, making it fun to watch the coins really add up!
Dave Ramsey Piggy Banks
Teach your kids how to give, save and spend with the Smart Saver Bank! It's been completely revised and redesigned to make learning about money even more fun. The piggy bank is the universal symbol for saving money. And what kid doesn't love money? The banks are transparent and compact, which means kids will see their progress even quicker!
My kids LOVE these little Dave Ramsey piggy banks. We have different tasks that they can do to earn money as well as a marble jar that they can fill for doing their chores. When the marble jar is full, they earn a set amount of money. That money is then split into the different piggy banks. I love seeing them see how this method makes a difference.
Do they completely understand that they can't spend money they don't have? No. Not yet but we're working on it. 🙂 They do understand that they need to set aside money for tithing and for saving for things they want to get in the future. Otherwise, all of their money would be in the "spend" piggy bank and they'd never get a chance to save up for those bigger things that they want.
I also love when they go to Sunday school and can tithe what they've earned themselves. I think that's a proud moment for both parent and child.
These would make great gifts to start your child or grandchild on the right path to money management.
You can keep in touch with Dave Ramsey on Facebook, Twitter and YouTube.
Topic: Dave Ramsey Piggy Banks Review