Are you ready for this pinch me moment? I think I must be dreaming!
Last week was an incredible week full of once in a lifetime activities. Including attending a LIVE taping of Dancing With The Stars. I'm not sure I can even put into words what it was like to actually be there in person.
This was my view from my seat.
And if you DVRd the show last Monday, you can pause it and actually see me and my blogging best friend, Sherry! I actually had a friend post a picture like this on Facebook while we were in the studio. So cool!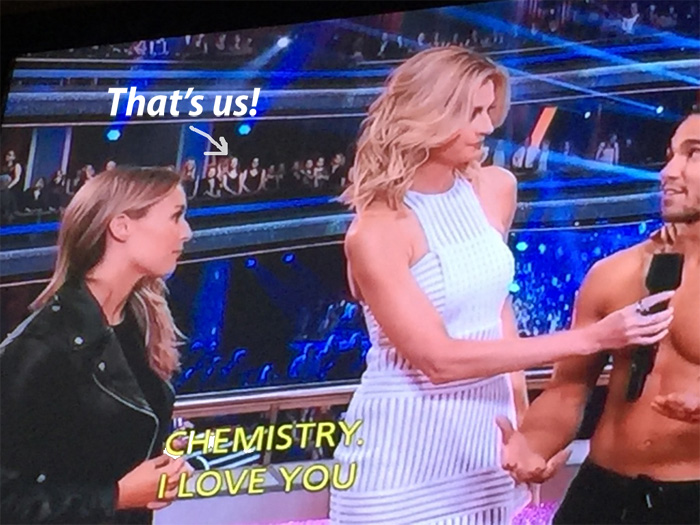 I love the show and it's fun to watch on TV but being able to be in the LIVE audience and see the dances in person, was just amazing!
Before they started taping, we got invited down on the dance floor to shake our groove thing. Thankfully that was not recorded but boy was that fun!
Dancing with the Stars #DWTS
Have you been following along all season? Who's your favorite? I really do love Bindi but after being at the live taping, I'm a fan of Alek and Carlos too. I'm not sure who I'll be voting for! If you're a long time fan of the show, I'm sure you'll be tuning in!
This week, there's two shows!! Don't miss the Dancing with the Stars 2-night Finale that starts tonight at 8|7c on ABC and continues tomorrow night at 9|8c.
About the Season Finale
After weeks of competitive dancing, the final four couples advance to the FINALS of "Dancing with the Stars" this MONDAY, NOVEMBER 23 (8:00-10:01 p.m., ET). Alek Skarlatos and Lindsay Arnold, Bindi Irwin and Derek Hough, Carlos PenaVega and Witney Carson, and Nick Carter and Sharna Burgess have one last night of competitive dancing, fighting to win the judges' and America's votes to be crowned the "Dancing with the Stars" champion on TUESDAY, NOVEMBER 24 (9:00-11:00 p.m., ET) on the ABC Television Network.

On Monday, November 23 (8:00-10:01 p.m., ET), the finalists will compete in two rounds of dance. In the first round, one judge will help each couple choose the creative elements of each dance, which is a re-do to a new song. Carrie Ann Inaba will work alongside Linsday and Alek, as well as Bindi and Derek. Julianne Hough is with Nick and Sharna, and Bruno Tonioli is with Carlos and Witney. In the second round, in one of the biggest competitive dances of the season, the couples take on a freestyle dance featuring special effects, additional dancers and unexpected surprises. There will be special performances from Meghan Trainor, singing "Like I'm Gonna Lose You," and Who Is Fancy, Ariana Grande and Meghan Trainor performing "Boys Like You." At the end of the night, the couple with the lowest combined viewer and judge votes from the previous two weeks will be eliminated.

In the two-hour season finale on Tuesday, November 24 (9:00-11:00 p.m., ET), the three finalists advance to the final stage of the competition. There will be live dancing and show-stopping performances at the Grove shopping center and in the DWTS ballroom. The night kicks off with a high-energy opening number, featuring a reunion of all 13 of this season's couples at the Grove. The finale will be filled with performances from Alexander Jean, Andy Grammer, Chaka Khan, Elle King and Nick Carter. Kim Zolciak returns to the ballroom to dance a Samba with Tony Dovolani to "I Dream of Jeannie," which she was never able to perform, along with encore dances from the eliminated celebrities. The cast of the upcoming "Dancing with the Stars: Live! Dance All Night Tour" will perform a dance to Avicii's "Broken Arrows" as a sneak peak of the 90-minute show traveling the country this winter. The three finalists will each dance a repeat dance from this season. In the last element of competition, the couples will perform a new routine as part of a "24-Hour Fusion Challenge." The remaining couples will fuse two contrasting dance styles that they've performed this season and they'll have less than 24 hours to prepare that dance for judges' points. At the end of the night, the winner of the coveted Mirrorball trophy will be announced!
How to Vote

Viewers may cast their votes for their favorite teams via phone on Monday night during and up to 60 minutes after the end of the "Dancing with the Stars" broadcast in each time zone. Online voting at www.abc.com and on Facebook at https://apps.facebook.com/votedwts/ is open for 15 hours, beginning from the start of the episode Monday, November 23 on the East Coast at 8:00 p.m., ET/5:00 p.m., PT and closing at 11:00 a.m., ET/8:00 a.m., PT the next day.
After the show, we all gathered on the dance floor to take this awesome group shot. This actual picture is the one that Tom Bergeron shared on his social media!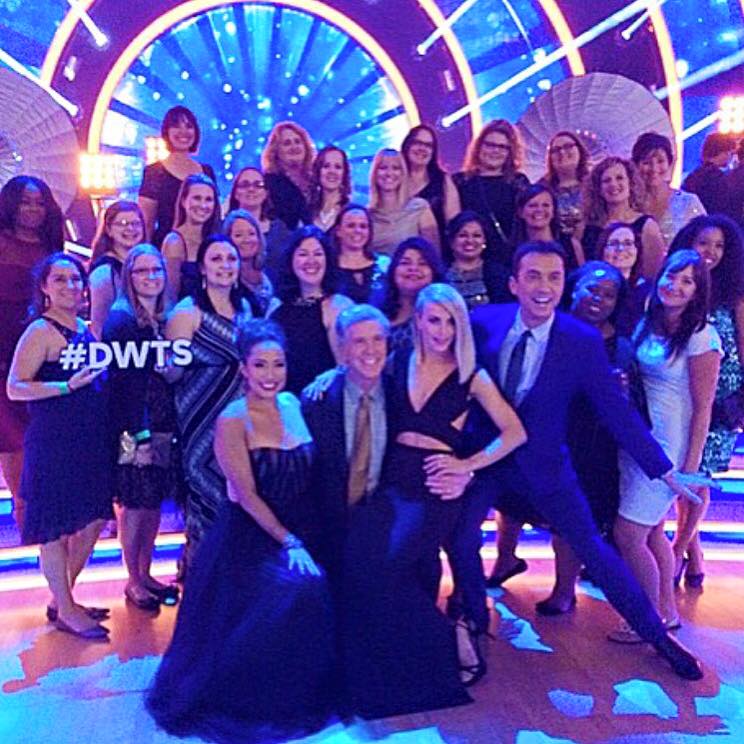 If attending the event wasn't enough, we all headed to Mixology 101 after to watch Dancing with the Stars airing on the West Coast. There's so much that you miss when in the studio so it was nice to be able to watch it back soon after.
While hanging out at Mixology 101 for dinner, we ran into Alek Skarlatos! He was having dinner with his family and he very kindly posed for pictures with us.
What a night to remember!!
Make sure to tune in tonight and tomorrow night to catch the season finale!! Who do you think will win??
Social Media
Facebook | Twitter | Hashtag: #DWTS | Instagram | Vine | ABC Publicity on Twitter
Here's a few more pictures that I took in the studio. Enjoy!