Wilderness Resort provided us with complimentary lodging and CyVRspace entertainment for the purpose of this article. All opinions are our own.
Experience Wilderness Resort's newest attraction: CyVRspace Virtual Arena
Our family recently had the pleasure of spending a weekend at Wilderness Resort in beautiful Wisconsin Dells. While we were there, we got to try out the newest addition to their entertainment lineup, the CyVRspace Virtual Arena.
Here's how the Wilderness website describes CyVRspace:
A single player experience with 50 levels of game progression, new enemies, bosses, and challenges that keep participants innovating right to the very end. There are also numerous weapon upgrades and power-ups throughout the game that keep things constantly evolving and fresh. Suit up with the most advanced wireless VR equipment in the world, engineered to allow you to feel like you are inside the game. A lightweight, haptic backpack, equipped with high powered rumble engines, will send every laser blast and explosion pulsing through your body like you are actually in the cyber world. You will dodge laser beams, take down robots and save the world!
Our family had an absolute blast shooting, ducking, teleporting, and occasionally shrieking (that was Dawn after she made the mistake of thinking the first robot she encountered was friendly, and then getting attacked by it).
I asked the kids for their honest opinion of CyVRspace and here's what they had to say:
Abbie (15)
My CyVRspace experience was amazing. It was my first time ever doing VR.

When we walked through the door, fog came pouring out. The staff helped get our gear on and we watched a really funny tutorial. It was easy to follow the rules and find out what was going on. After the rules they took us to the game area and got my VR headset tightened.

Here's a tip for your headset: hold it up until you have a nice, clear view and then, when they tighten it, let go and you will have a better gaming experience because you'll be able to see everything around you clearly.

The game is a first-person shooter. You have two pistols and you're in a room full of androids. The androids are not friendly, and you have to destroy them before they destroy you. There are many different robots to fight.

The fist round is a couple of simple androids that will only punch you if they get too close. After each round it gets harder. You have to face androids that shoot, fly, have missiles, and one that has many abilities that you'll have to find out for yourself. I found myself flinching because the androids can catch you by surprise and jump on you. Yes, I said they jump, too. If you don't completely destroy an android, the top half of its body will crawl around on the floor. The only way to attack you is to get in your face by latching on to your shoulders. When that happened to me I was already trying to fight a swarm of other androids.

Did I mention you can teleport? It's a great way to escape a swarm or get behind the androids and attack.

Our game lasted thirteen or fourteen minutes; it was the perfect amount of time. Your name gets saved in the system so if you complete a level you can go back at any time in the future and start from the next level.

Overall, I loved CyVRspace. I felt like I was in a movie, fighting off androids. I would definitely do it again!
Caleb (13)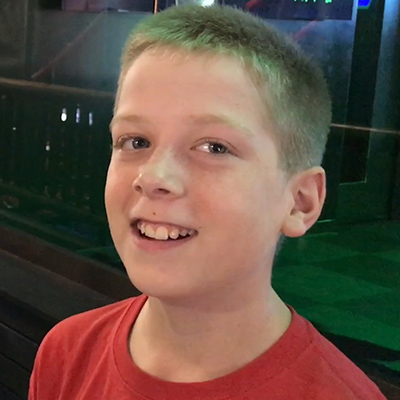 I loved going to Wilderness; CyVRspace was super fun and I'm really glad I tried it.

Fighting the robots and teleporting around the room was awesome. There were even flying drones to shoot down.

I scored 25,505 points which was the best score of anyone in my family.

I think kids my age will love CyVRspace. I can't wait to go back and play again!
There you have it. CyVRspace was officially a hit with the Wells family. And the adults had just as much fun as the kids.
Being prone to motion sickness, I was actually worried that the VR experience might affect me badly. I'm happy to report that I didn't feel even a hint of discomfort while playing.
Here's a video of our family discussing our experience:
Also, the Timberland Playhouse at Wilderness Resort received an all new re-design! You can see it a bit in the background of our video above. It is an impressive four stories tall!
The new play structure now has four stories of fun instead of three, and features six slides, swings, tunnels, an arched bridge, climbs and crawls – 39 in all – to satisfy the energy and imagination of guests 12 and under.

Parents of toddlers will also appreciate a separate gated area especially designed for those four years of age and younger. And, for those with sensory issues, the new Timberland Playhouse does not include noisy ball launchers. Just has lots of climbing and fun activities to explore!
There is so much to see and do at Wilderness Resort. Plenty of fun for kids (and adults) of all ages! You can find our other coverage of Wilderness Resort in Wisconsin Dells here.
Thank you, Wilderness Resort, for an amazing weekend. We can't wait to visit again soon!