Disclosure: I was able to experience the Carnival Cruise Food options as part of our Carnival Cruise for review purposes only. All opinions are my own.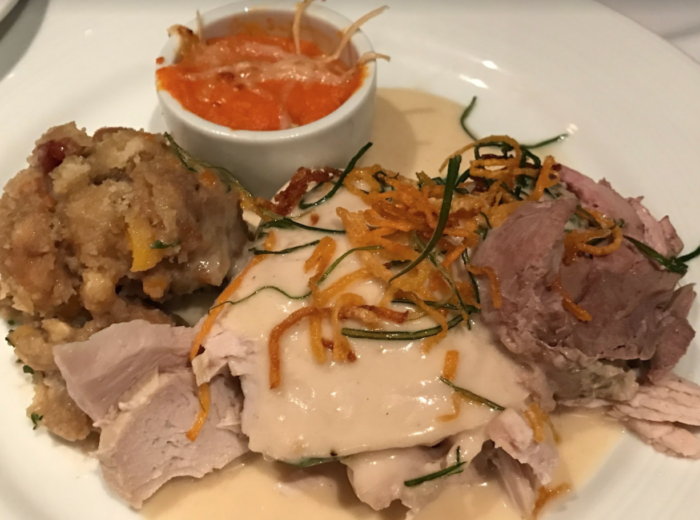 Carnival Cruise Food options
I think most everyone knows that when you go on a cruise you will never go hungry. Everyone that I have talked to about cruising has told me how good the food was. They were right.
There are so many Carnival Cruise Food Options to choose from. There's snacks and buffet style on a couple different levels plus there is reserved seating nightly and Seaday brunches in the morning. I always like breakfast so the Seaday brunch is one of my favorites but the reserved seating dining is fabulous. Oh and I can't forget the room service! That's a great option if you just want to stay and relax in your room.
The wait staff is incredible and there's just nothing like the service they offer. They are so professional and welcoming. They even put on a show for us a few times this week. That was fun. We appreciate the effort they put in to make every guests' experience so wonderful.
I tried to remember to take pictures at each of my meals but there were some that I just couldn't wait to eat and forgot to snap a picture. I was still able to grab quite a few. Take a look:
Prime Steakhouse
There is also a couple of other dining options other than the dining that is included with the price of your cruise. We were able to try out the Prime Steakhouse. This is an upscale, elegant dining setting. They offer a variety of prime steak cuts. I chose the New York Strip. It was fantastic.
Along with the steak, there were also several other courses and a wonderful selection of wine. Everything was very good and the service was excellent.
If you have the time, I'd definitely recommend trying one of the upscale restaurants. The ambiance was perfect for a romantic evening or an elegant family meal together.
The Prime Steakhouse rivals anything you'll find on the mainland.
No matter what your taste, Carnival Food options will have something for you! Oh and don't forget the desert. You must check out their sweets and chocolate selections. It's a chocolate lovers heaven.
Topic: Carnival Cruise Food Options