We live with Crohn's Disease every single day but there's one week out of the year, especially, when I sit back and reflect on what Crohn's is and what it has done to so many.
December 1-7 is National Crohn's and Colitis Awareness week. 2 years ago I wrote a blog post on my first blog site about my daughter's journey with Crohn's Disease. I've since moved it over to this blog.
Crohn's Disease – Her Journey
Faith was diagnosed with Crohn's Disease just over 5 years ago. It has not been an easy journey for her but I am so happy to report that she is going on 2 years symptom free and hospital free! Praise God! (it's time to take a new picture of her at her 2 year mark 🙂 )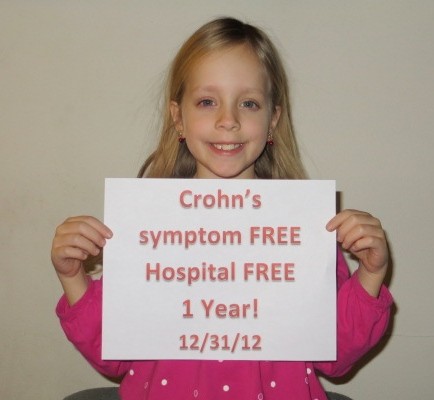 I have not written anything about her battle with Crohn's Disease since I first wrote about it 2 years ago. Yes, she still has her struggles but nothing that we haven't been able to manage at home. She is still taking 2 different medicines to control her Crohn's. She gets 2 shots per week that we administer at home. She has a lot of anxiety over one of the shots so there are a few complications that we deal with from that but right now, this is her treatment.
Faith is now 9 years old. Her Crohn's Disease has caused some issues with her growth. She's small and petite but still a fire cracker. There are some anxiety issues as I've mentioned above. Not just with her medicines but with any doctor. She has not ever talked to her Peds GI doctor and won't talk to most adults. I give her a lot of leeway with this because she's been through so much. Not everyone understands but they don't have to. It's my job to protect her. That comes above anyone else's feelings. What's important is that she's a happy and healthy girl.
Crohn's Disease is silent. You may not even realize that someone is struggling or battling it. There's a lot of truth to this quote:
Be kind, for everyone you meet is fighting a hard battle. ~Philo
You may not realize it, you may not see it, but be kind anyway. You never know what someone else is battling. That's the biggest thing that I have to protect my daughter from. No one understands why she won't talk to them or hug them or why she hides. Don't take it personally…she is fighting her battle and this is how she survives.
Topic: Crohn's Disease