Crock Pot Recipe
I'm always looking for quick, easy, yummy recipes. A crock pot recipe is great! The less I have to do with it, the better. When you can put it all in one pot, have it cook all day and turn out yummy… well that's just perfect for me. We're all busy, we need a great crock pot recipe like this one.
Creamy Chicken and Noodles
This recipe calls for frozen noodles. I had never heard of frozen noodles but was able to find one at Walmart. Just one brand but they were the frozen egg noodles that the recipe calls for. If you can't find these in your grocery store, you could use regular noodles. There's enough liquid in the recipe that the noodles should cook. I would just watch so the noodles don't get too mushy and cut the cooking time down. Otherwise, you could boil your noodles ahead of time and just mix them in at the end or just serve the creamy chicken over the top.
The consistency was just a little thin but not quite soup. It would be perfect in a bread bowl. The first night, I served it with crackers. When I served it for left overs, the liquid had absorbed a bit more so it was a bit thicker. Either way, it was delicious!
Let me know how you like it and if there's other options that you add to it.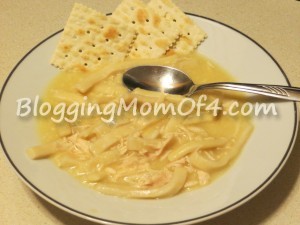 Ingredients
3-4 frozen chicken breasts
2 cans cream of chicken soup
42 oz chicken broth
24 oz package of frozen egg noodles
Directions
Add frozen chicken breasts to crock pot with cream of chicken soup, and chicken broth.
Cover and cook on low for 8 hours.
An hour before serving, remove chicken and shred.
Return chicken to slow cooker.
Stir in frozen egg noodles.
Cover and cook for 1 more hour.Serve
This is a great recipe I found from In the Kitchen.