Crescent Pepperoni Rolls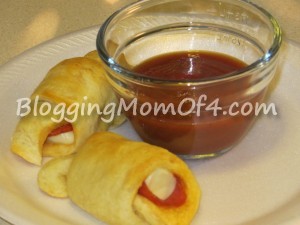 My family is a big fan of pizza. Any kind of pizza really but we've been having fun making home made pizza lately. I'm not sure if we'll get sick of pizza anytime soon. We had home made pizza last night. Left overs today for lunch and then when we couldn't decide what to have for dinner tonight, we decided to try these new Crescent Pepperoni Rolls.
Pizza overload? Maybe. But wow, were they yummy!! They were really easy to make too. My girls had fun helping me. I really like using crescent rolls. There are so many things you can make with them. This is another one of those great recipes.
Must try for lunch, snacks, game day, parties, whatever and whenever. Give them a try!
Crescent Pepperoni Rolls
Ingredients
1

Can refrigerated crescent rolls

I used 2 cans for my family

Pepperoni slices

Mozzarella String Cheese

cut in half

Garlic Powder

Pizza sauce
Instructions
Preheat oven to 375

Unroll crescent rolls and separate into triangles.

Place up to 5 slices of pepperoni on each crescent roll.

Top pepperoni with string cheese half and roll up.

Sprinkle crescent rolls with garlic powder.

Place rolls on baking sheet and bake for 12-15 minutes or until golden brown.

Serve with a side of warm pizza sauce.