Do these cream cheese stuffed strawberries look delicious? Read on to find the recipe.
I love it when I start seeing strawberry stands popping up all over town. I am a huge fan of strawberries. They are so yummy. One of my favorite desserts is  strawberry shortcake. I also just love to eat them plain. Either way, strawberries make for an easy, yummy dessert.
Now for a little more decadence, if you're a fan of cream cheese frosting, you're going to love this recipe for Cream Cheese Stuffed Strawberries. Oh so yummy!
I went to a bridal shower and they had these tasty little treats. I knew I had to have more. They are fairly easy to make so it's a great dessert to make for anytime including bringing to pot lucks, family reunions, etc. All of those fun gatherings that take place over the summer.
So let's get to it and explain how I made these Cream Cheese Stuffed Strawberries!
Cream Cheese Stuffed Strawberries
First, wash all strawberries and then cut out the stem. When you cut out the stem, go ahead and make just a bit bigger 'hole' so that you can stuff your strawberries.
You can go ahead and make your cream cheese frosting at anytime. The recipe for the cream cheese frosting is very simple.
Cream Cheese Frosting
Cream Cheese Frosting
Ingredients
1

stick unsalted butter - softened

8

oz

of cream cheese - softened

2 - 3

cups

powdered sugar

1

teaspoon

vanilla extract
Instructions
Mix the butter and cream cheese together on medium speed until very smooth. Scrape down the sides and bottom of the bowl.

Add vanilla extract and mix. Slowly add the powdered sugar until you get to desired thickness.
Now that you have your cream cheese frosting, you can spoon it into a piping bag or you can use a baggie. Baggies are easy to use and are disposable. All you need to do is cut off a small triangle at the corner of the baggie.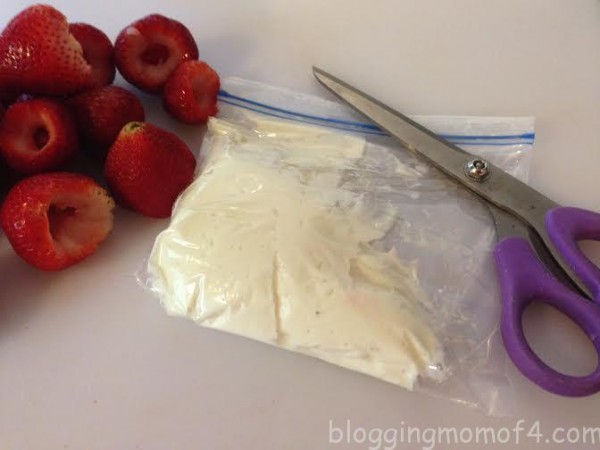 Then you can easily 'stuff' your strawberries filling them with the cream cheese frosting.
We just gobbled these right up. Such an easy, yummy dessert to make any time. Just keep some cream cheese on hand for when you stop at that strawberry stand and you're all set.
Enjoy!
Topic: Cream Cheese Stuffed Strawberries Recipe
Pin for later: