Court Yard Hounds Amelita
I am listening to Court Yard Hounds second album right now – Amelita. I hadn't actually heard that this duo had branched off and started Court Yard Hounds. But then again, I'm usually the last to hear things. 😉 I like a variety of music genres but I usually gravitate most to Country.
Emily Robison and sister Martie Maguire head up this group.
After a few years away from the limelight and the Dixie Chicks, the two sisters were ready to get back into the studio with the creation of Court Yard Hounds. Amelita, out now, marks the Court Yard Hounds' second album.

Containing 11 new tracks, Robison and Maguire took a different approach with Amelita than their debut album in 2010. This album contains a new perspective, which is due in part to time passed since Robison's divorce. "I've been freed of all of those time-heals-everything kind of things," says Robison. "Now, I've opened up to other ideas and ways of looking at life and the world. I think it's not only a more hopeful album, but it's more… well fun."

"I love this band…the way we explore new aspects of ourselves and what we can expect from each other, both musically and as people," says Martie. "We are close. Plus, being on the road and being in the studio is like my spa from the everyday challenges of just being a mom."

The Court Yard Hounds' new album is a clear statement of who the girls are as artists, defining their sound as a band, with soaring songs that are personal, yet familiar and widely relatable.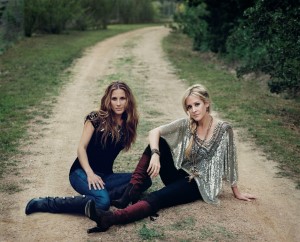 Amelita Track Listing:
Sunshine
Amelita
The World Smiles
Aimless Upward
Guy Like You
Rock All Night
Phoebe
Divided
Gets You Down
Watch Your Step
The Road You Take
I love the Amelita album. It has a great country sound to it. There are some great slower reflecting sounds and then some more upbeat tunes as well. I love anything that I can sing to and I think this is one of those albums.
I always loved the Dixie Chicks songs and Court Yard Hounds is just as great! Two of my favorite sounds on the album are Sunshine and Gets You Down.
You can find Court Yard Hounds on:
CYH on Twitter
CYH on Facebook
Emily Robison on Twitter
Martie McGuire on Twitter
Want to check out Court Yard Hounds?
To Buy Album:
Disclosure: I participated in this campaign for One2One Network. I received a free copy of the Court Yard Hounds CD to facilitate my review. By posting, I am eligible for incentives. All opinions stated are my own.