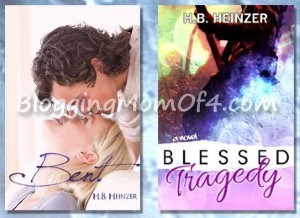 I am admittedly not much of a reader…unless it's a book that I can really get into. Then I will sit down and read a book from cover to cover and will sometimes read the same books several times. My husband will give me other books to read and I would rather just keep re-reading the same books that I know I love. Even if it's for the 4th time in a row.
I've never read a true contemporary romance novel before. I've read the Twilight series and some other series that are great love stories but these all cut out the actual love scene. So true romance novels are a bit of a shock for me. 😀
A good friend of mine is an up and coming new author. She has written some amazing Contemporary Romance novels! These stories are definitely the type that drew me in right away and made me want to read from cover to cover!! I knew I was going to have some time to read while traveling recently so I made sure to have both books available to me.
Contemporary Romance Novel – Bent and Blessed Tragedy
I read Bent on the first half of my trip. It was amazing. Such a great love story but full of drama! Here's a description:
Bent
Publication Date: January 21, 2013
If there's one thing Julia Wilson has learned in life, it's that you can't push your own dreams to the background for anyone. Newly divorced, Julia returns to the hometown she once swore would never see her again. Her plan is simple; enjoy the cheap rent her friend is offering and stay just long enough to develop a plan to make her own dreams come true.

It doesn't take long before Julia realizes she's made a big mistake.

Micah Anderson came closer to breaking Julia than anyone else ever had. After promising her forever, he broke her heart the week before she left for college. Now, Julia's back in town and he's going to have to tell her the truth about why he left her. It's not possible to hide a twelve year old child when you live in a town of 5,000 people.

Is following her dreams worth it if it means giving up on a second chance with her first love? Is trying to make a relationship work worth it if his past becomes a threat to her safety?
After Bent, I was really hungry for more. I couldn't wait to dive into her next contemporary romance novel. On the second half of my trip I read, Blessed Tragedy:
Blessed Tragedy
Publication Date: March 14, 2013
Maddie Neumann died the day she pulled away from her parents' house determined to make her dreams come true. She wasn't the perfect little princess she'd been raised to be, all she wanted to do was rock. Everything Maddie was tucked away in a box to allow for her re-birth as Rain Maxwell; a badass rocker who answered to no one and lived by her own set of rules.

Rain's world is shattered with one phone call from her estranged family. No sooner does she get home than everything she thought she knew about her life starts changing.

Colton Bradford knew there was something special about Rain the moment they first met. Unfortunately, she had a hard and fast rule about dating a bandmate so he was stuck in the friends zone. When Rain is going through her own personal hell, will Colton finally be able to make her see how he feels and convince her to take a chance on love?
I cried through pretty much the first 4 chapters of this book. And keep in mind, I was reading in the airport and on the airport shuttle, etc. How embarrassing. lol But I didn't care..I just kept reading. That's how good this book is!
You can pick up both off of Amazon. You might even be able to pick them up free if you catch it on a Free weekend or are prime members!! Enjoy but don't forget your kleenex!!
Check out Author HB Heinzer on Facebook!
Topic: Contemporary Romance