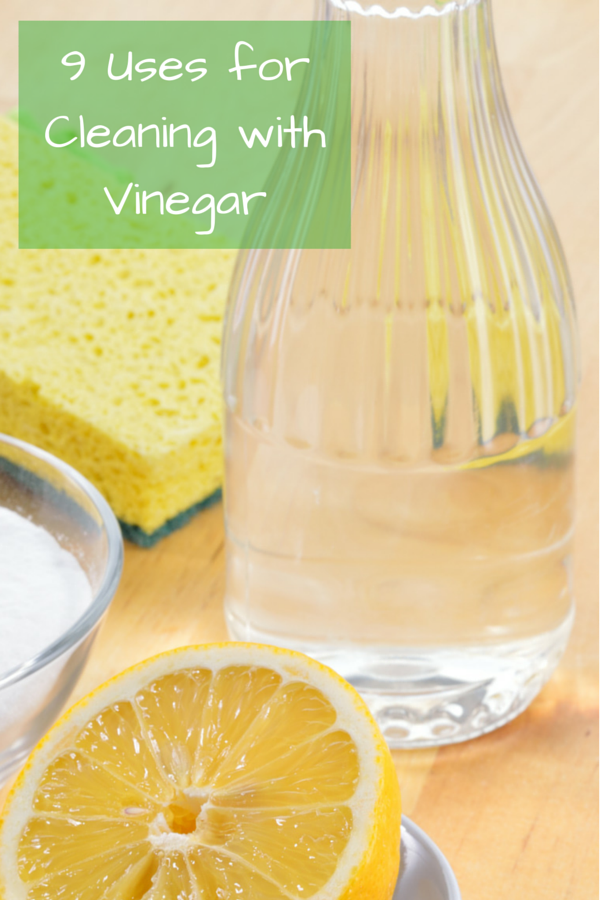 When I think of a healthy lifestyle, I first think of eating right and exercise. I'm learning that there's more to a healthy lifestyle. Such as the cleaners you use. It's important to think about what you're using to clean your house with.
Vinegar has some amazing cleaning power and makes a great "green" household cleaning product. Using white distilled vinegar as an all-purpose cleaner is is better for your healthy lifestyle than the harsh, toxic chemical blends that you buy in the store. And vinegar is a lot cheaper to buy.
Granted vinegar doesn't really smell the best but don't worry. When it dries, there's no smell at all.
So let's look at these 9 uses for cleaning with vinegar.
Cleaning with Vinegar
1. Windows & Mirrors – Fill a 16 oz. spray bottle with ½ vinegar and ½ water to clean windows and mirrors.
2. Microwave – To clean out a dirty microwave put 1 cup of vinegar and 1 cup of water in a microwave safe bowl (you can add a bit of lemon juice as well). Microwave on high for 5 minutes. Let stand for 15 minutes and wipe out with a damp cloth. All that stuck on food comes off easily.
3. Dishwasher – Fill your rinse dispenser with vinegar and your dishes will come out squeaky clean.
4. Refrigerator & Counter Tops – Keeping a spray bottle on hand filled with ½ vinegar and ½ water makes it easy to grab to clean the counter tops. Use it to clean out the refrigerator on a regular basis too. You won't have to worry about using this solution around your food because it is non-toxic and all natural.
5. Coffee Pot – To keep your coffee pot free from buildup, use a full pot of straight vinegar and run through a normal brew cycle. Then run two regular pots of water through the brew cycle. Do this once a month.
6. Underarm Stains – Use full strength vinegar in a spray bottle to soak the stained areas. Leave in for 15-20 minutes before washing as usual.
7. Fabric Softener – You can use vinegar in place of your normal fabric softener in the rinse cycle.
8. Toilet – pour in 1 cup of full strength vinegar, leave it for 10 minutes and clean as usual.
9. Tub/Shower – Use 1/2 vinegar, 1/2 water in a spray bottle, to keep your shower clean. Just spray down the shower, tub and shower curtain after your shower.
Do you have other great uses for Cleaning with Vinegar?