Thank you to I See Me! for participating as one of our 2016 Holiday Product Guide brands with their Christmas Sing-Along Book.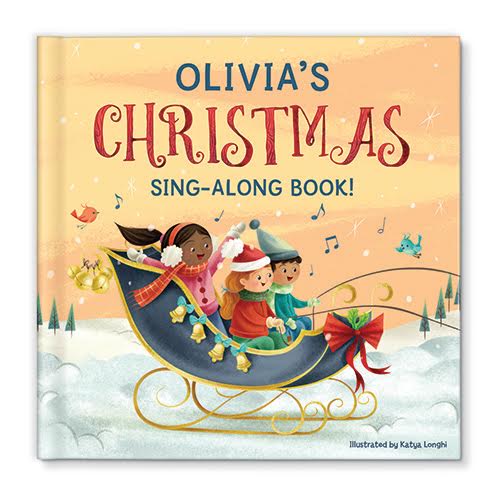 Are you ready for Christmas? I know fall just started but Christmas is just around the corner. There's no time like the present to start thinking about Christmas and get some gift ideas! I LOVE getting gifts that are personalized. It just means so much more if you can personalize. I have ordered several things from I See Me! and have been so happy with everything I've gotten.
Christmas Sing-Along Book
Now, I See Me! has a Christmas Sing-Along book just in time for the holidays!
Gather 'round the Christmas tree to share favorite Christmas carols with your child. My Christmas Sing-Along Book is a hardcover personalized book featuring twelve classic children's Christmas songs, each personalized with your child's name!
This year, I See Me! makes it easy to fill your children's wish lists with something unique and personal. Take a look at all they have and let me know which ones your kids would love to see under the tree.
Make your Christmas presents a little more personal just by selecting some great presents from I See Me! This is a great option, especially for little ones. We have a few personalized books in our house because the kids love reading books that have their names written into the story. It takes the story to another level for them and they'll remember it for a long time. My kids still pull out books that we've had for years just because they are personalized with their names. They are something to be cherished.
About I See Me!
Kids love being the stars of their very own stories, so just imagine their delight when they discover that their new storybook has a very familiar hero. Personalized storybooks from I See Me! make children feel special while encouraging important skills such as reading, letter recognition, and learning to spell their own names.

Beautifully illustrated and professionally bound, customized books from I See Me! take quality and personalization to the next level. Animals might bring letters one by one to spell out your child's name. Fairies might bring the letters of your child's name and then crown her as their fairy princess. The hero might have the same hair color and skin tone as your child, or a photograph of your child's face might be playfully incorporated into the illustrations.

Storybooks from I See Me! can help children develop basic reading skills, teach them to recognize their own name in print and lay the groundwork for writing their own names. These entertaining books also build self-esteem by celebrating the uniqueness of each child.
Happy shopping!