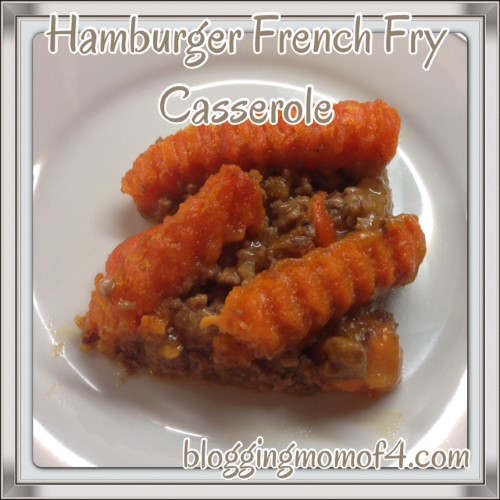 Yesterday I decided it was a good day to make Chili. It's such an easy soup to make. I went into the freezer to grab some hamburger and only found a 3 lb pack. So I just decided to fry it all up and that way I'd have hamburger already browned and ready for the next recipe.
Today, all I needed to do was figure out which hamburger recipe to make. One of the first recipes that I thought of was Cheeseburger French Fry Casserole.
Since trying to eat more Paleo, that limits things a little bit. I still found a recipe that I can make work. Granted this is not Paleo but I'm making some substitutions to make it just slightly Paleo friendly. 😉
Starches are a no-no on Paleo but I have been occasionally using Sweet Potato fries as a substitution. So that's what I'm doing with this recipe. Are the soups Paleo? Not exactly but all in all I think I'm making a better choice than sitting down eating a huge bowl of pasta. 😉
This recipe is an easy crowd pleaser. Very similar to Tator Tot Casserole except with french fries. And in my recipe, sweet potato fries. Yum!
Cheeseburger French Fry Casserole
Ingredients
2

pounds

Ground Beef

1

can condensed golden mushroom soup

1

can condensed cheddar cheese soup

1

package

20 ounces frozen crinkle-cut French fries
Instructions
In a large skillet, cook beef over medium heat until no longer pink; drain.

Stir in soups.

Pour into a greased 13-in. x 9-in. baking dish.

Arrange French fries on top.

Bake, uncovered, at 350° for 50-55 minutes or until the fries are golden brown.
That's it… dinner is served and your kids will actually eat it! 😉 I like a little ketchup with this hamburger french fry casserole. You could use any condiment that you normally eat your french fries with. Ranch, mayo, etc.
Enjoy!
Topic: Cheeseburger French Fry Casserole