I was provided an all expense trip to cover the Cars 3 World Premiere Event in Anaheim, California. All opinions are my own. #Cars3Event
Cars 3 World Premiere
I just got back from a whirlwind, amazing three days in Anaheim, California covering the Cars 3 World Premiere event. I hope you have been able to follow along on social media as I was live sharing directly from the red carpet and Disneyland. If you weren't able to catch it live, no worries. Head over to my Twitter channel and/or search for the hashtag #Cars3Event.
Part of our trip was attending the Cars 3 World Premiere and red carpet event. There truly is no words to describe the amazing experience that this was.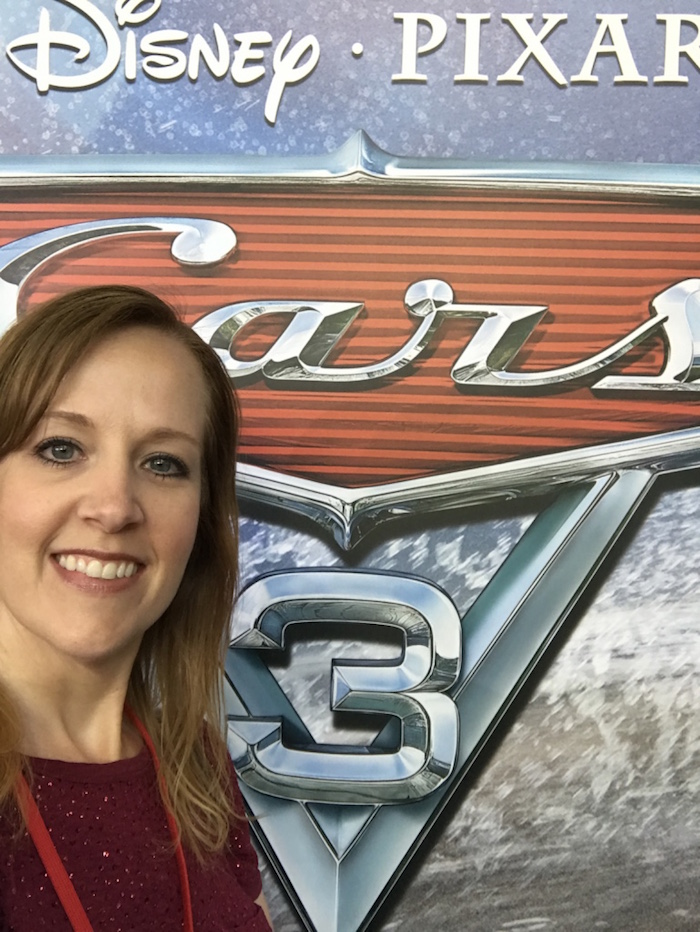 This particular red carpet event was held inside. There was entertainment on site, fun photo booth type areas, fun stations for the kids and even a few recognizable cars characters.
Not only is it an incredibly fun time but you are in the presence of some amazing talent.
Shown above: Andrea Warren; Larry the Cable Guy; Armie Hammer; Isiah Whitlock Jr.; Kevin Reher; John Ratzenberger; Jenifer Lewis; Lea DeLaria; Brian Fee; John Lasseter; Cristela Alonzo; Owen Wilson; Kerry Washington; Nathan Fillion
When I say whirlwind, that's truly how it feels. If you are in the right place at the right time, you may get a selfie with a celebrity or two but even if you don't get those pictures, the fact is, you're there. You're living this moment that not very many people get to live. That in and of itself is incredible and at times, hard to wrap your mind around.
I was in the same room, the same place, the same event as the people responsible for this incredible film and other celebrities as well.
I love being able to look back at these pictures to re-live those moments. There were so many people there that I didn't even get to see. Like Chandler Riggs shown in the gallery above. I didn't realize he was even at the event until I saw the picture. 😉
Here's my Facebook live of the red carpet. Watching it through again, I've noticed several celebrities that I didn't catch the first time through. See if you can spot them.
Once we walked through the red carpet area, it's time to watch the world premiere of Cars 3. And again, it's surreal to realize that I was watching it with the entire cast and crew as well as a ton of other celebrities. We were all in the same room, sharing the emotions and laughs from the film. Just incredible.
In fact, Amy Brenneman along with her family and Tori Spelling with her family were all sitting just a few rows behind me.
Now if that wasn't enough, after the film (which was incredible by the way.. I'll be posting my review later in the week), we were taken by tram to Cars Land at Disney California Adventure for the after party.
I have been fortunate enough to attend a few premiere events with Disney and they just continue to out do themselves. The Cars 3 after party was crazy fun! Now, not only did I watch the world premiere of Cars 3 with an incredible group of people, I'm partying with them. Pinch me moments for sure.
I was able to go live for a bit.. see if you can spot any celebrities that I missed. It was a bit loud with the music in the background. I tried giving some running commentary along the way. And before I get called out on my commentary, Amy Brenneman is the actress' actual name.. not her characters name. And I thought I saw Steven Spielberg but I don't think it was. I think (after looking at pictures) it was one of the screen writers that just happens to look like Steven. 😉
Oh but wait… I didn't tell you yet what the highlight of my night was. I am a huge fan of Nathan Fillion. Like all the way back to Two Guys, a Girl and a Pizza Place, Firefly and more recently Castle. My blogging bestie, Sherry and I had not spotted Nathan all night.. and then there he was. He was very charming and didn't hesitate at all when I asked him if he wouldn't mind taking a selfie with me.
How cool is that!? That definitely made my night complete.. but then we're not quite done yet.
Whew… are you still with me? I know this was a LOT to try to fit all into one post but I need to give you a peek at the finale of the Cars 3 World Premiere night.
We had front row seats to the World of Color. This is such a breathtaking show that is truly magical in person. I know my pictures won't be able to do it justice but at least you can get some what of an idea of the beauty. I do have a full video of the show and will add it to the post when I get it uploaded so you can enjoy!
Thank you for coming with me on this incredible journey! Stay tuned the rest of the week for more Cars 3 World Premiere event coverage!
DISNEY·PIXAR'S CARS 3 zooms into theatres June 16th!