In just a few days I'll be walking the red carpet for the Cars 3 Event in Anaheim, California! Read on to see what else I'll be doing while on this quick trip. #Cars3Event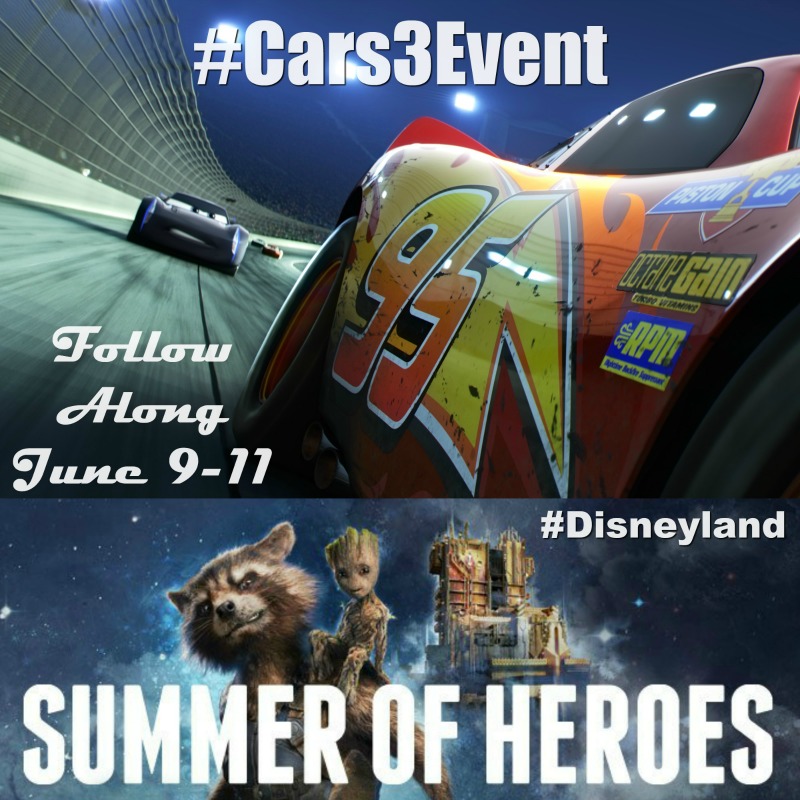 Summer is already full speed ahead around here. We've been crazy busy with baseball, confirmation, graduation, graduation parties and my mom and dad's 50th wedding anniversary. WHEW! But the fun does not stop there. Now that a few of those events are over, I can focus on my next incredible adventure the Cars 3 Event! Ready to hear the details and follow along?
CARS 3 Event – Red Carpet Premiere
At the end of the week, I'll be flying to Anaheim, where I'll join 24 bloggers to attend the CARS 3 Event. All 25 of us will attend the Disney•Pixar CARS 3 Red Carpet Premiere, screen Pixar Animation Studios' short film LOU, and spend time at Disneyland and Disney California Adventure Park to experience the "Summer of Heroes!"
CARS 3 Social Media: Youtube | Facebook | Twitter | Instagram
Who are we interviewing?
First, we'll start with and interview with CARS 3 Director Brian Fee and Producer Kevin Reher. Wait until you hear the voice talent we'll be chatting with: Owen Wilson (voice of "Lightning McQueen"), Kerry Washington (voice of "Natalie Certain"), Cristela Alonzo (voice of "Cruz Ramirez"), Armie Hammer (voice of "Jackson Storm"), Nathan Fillion (voice of "Sterling"), Larry the Cable Guy (voice of "Mater"), Lea Delaria (voice of "Miss Fritter"), and Isiah Whitlock Jr. (voice of "River Scott"). 
We'll also have a few moments to watch a presentation on the LOU short film and presentation with Director Dave Mullins and Producer Dana Murray.
Pixar's LOU
Pixar's LOU is going to premiere ahead of the CARS 3 movie and will be 6 minutes long. It's Pixar short about a lost-and-found box and the unseen monster within.
When a toy stealing bully ruins recess for a playground full of kids, only one thing stands in his way: the "Lost and Found" box.
Summer of Heroes at Disney California Adventure Park
I'm truly looking forward to the Summer of Heroes at Disney California Adventure Park! Are you a thrill seeker? I sure am so bring on the new Guardians of the Galaxy: Mission Breakout ride!
It's a blockbuster season of heroic encounters! From favorite Super Heroes to a thrilling new attraction, it's time to Hero Up at Disney California Adventure Park beginning May 27, 2017.
Such an exciting three days planned and I for one cannot wait. There is going to be a bunch of free time to explore, what should I check out first at Disneyland?
While we wait for Cars 3 to hit theaters June 16, print off these activities for the kids. Just click on the image below:
Follow along on social media with the following hashtags:
#Cars3Event #Disneyland #SummerOfHeroes
Follow me on: