Thank you to Kia for providing me with a Kia Sedona to use for our camping trip and sponsoring this camping checklist. All opinions are my own.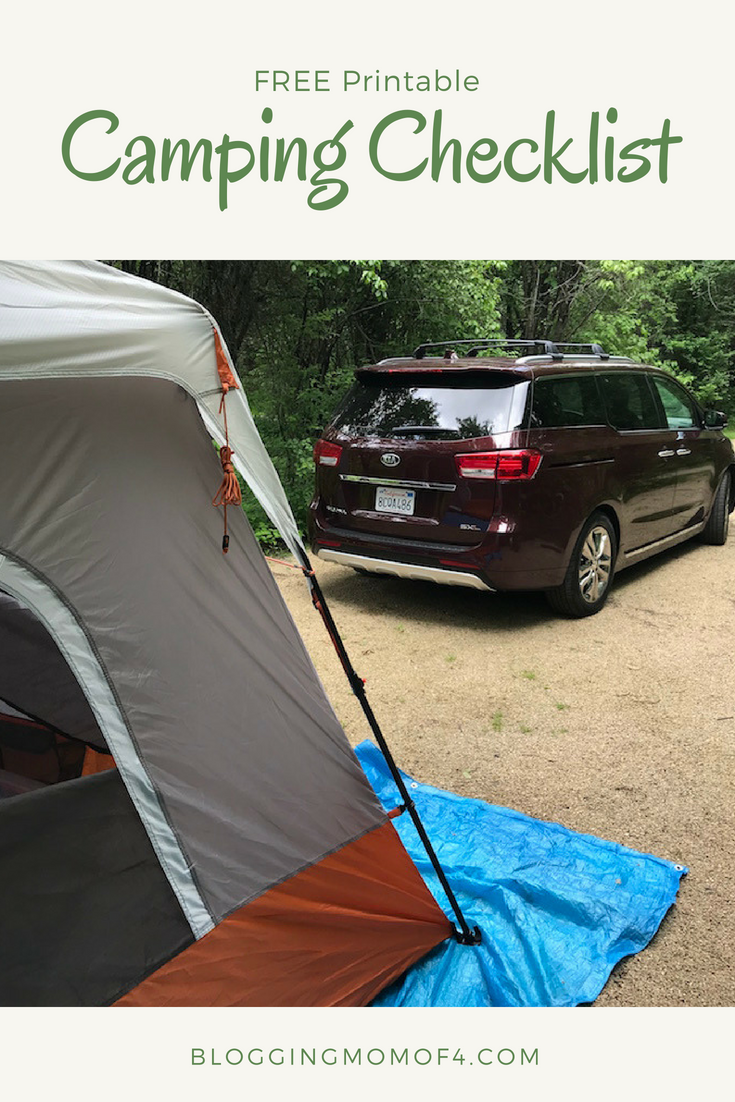 I feel like I need to start this post with a disclaimer… I am not an "outdoorsy" type of person. I don't like bugs and creepy crawlies. I like comfort and air conditioning. My type of camping would be staying in a hotel. However, I decided to get out of my own way and give camping a try. Maybe I'll love it and who knows, maybe our family will start camping. So I jumped in with both feet. We packed up the Kia Sedona and hit the road.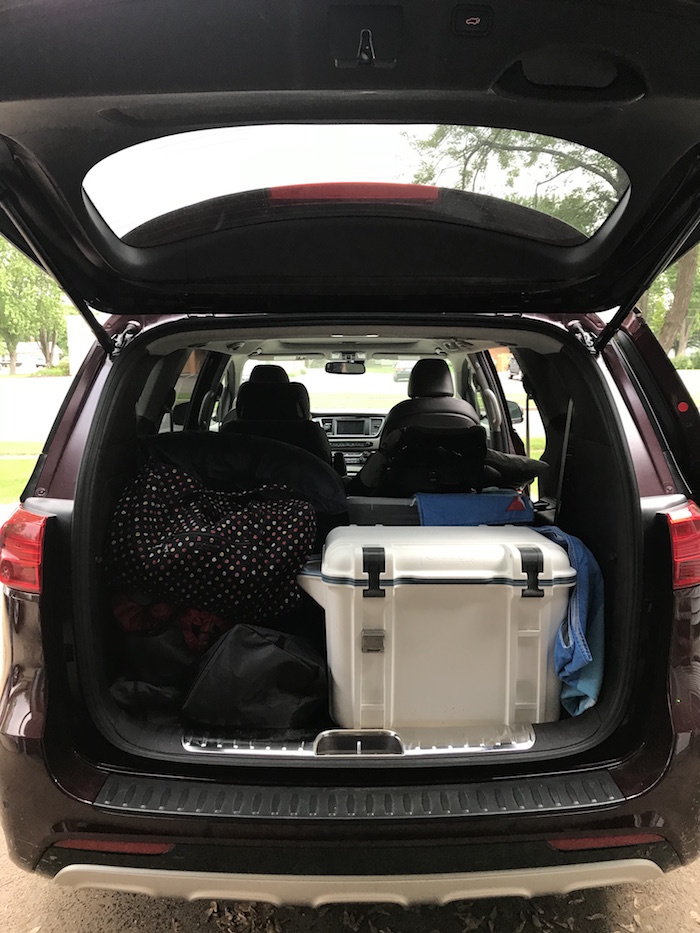 Can I just say, thank goodness we had the Kia Sedona during this time frame. There is a LOT to pack when you go camping! With the 3rd row seats folded down, there was ample room for everything we needed to bring. Tents, tarps, cots, cooler, chairs, sleeping bags, pillows, blankets, totes with food and supplies, etc. The Kia Sedona is so spacious that I think we could have had the 3rd row seats up and still had room for everything in the back cargo area.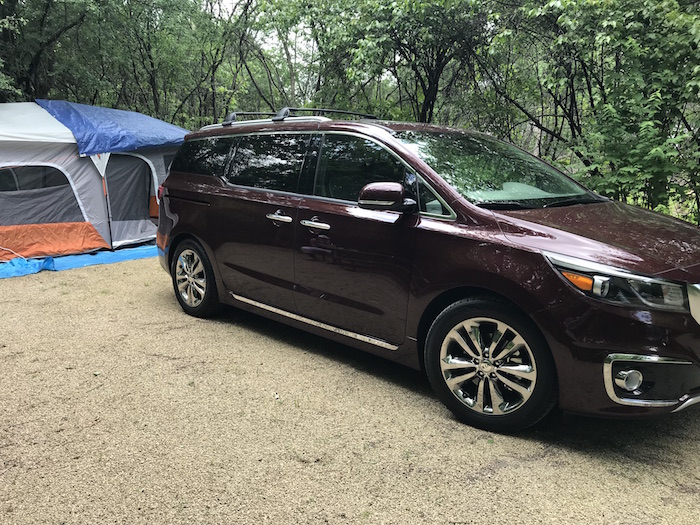 The initial reason we even thought about camping was for Caleb's baseball tournament. Hotel prices for the weekend were outlandish! Thankfully, camping ended up being a much more affordable option for us. I was a little worried about the rain in the forecast but I knew that, if needed, we could just hop in the Sedona and be perfectly comfortable for the night.
Even star gazing from the moon roof inside the Sedona, I thought, would be pretty amazing. I mean, look at the view during the day. Can you imagine star gazing at night?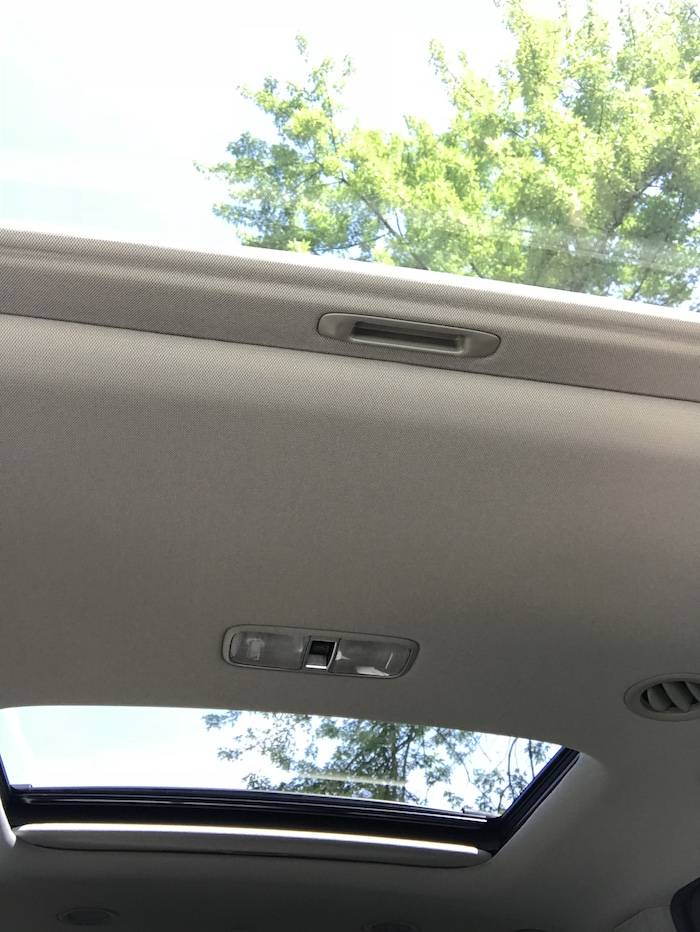 And side note, it did rain that weekend… a LOT! Thankfully our tent stayed dry but packing everything up the next day all wet from the rain was a bit of a challenge. I was even more grateful, at this point, for all the room in the Kia Sedona. We decided to not try to put the wet tent back in its storage bag and just tossed everything in the back of the van. Made tear down and packing up so much easier!
Not being a frequent camper, as soon as I made reservations at the campground, I asked friends and family for their best tips for camping necessities and then put together a camping checklist. I don't know about you, but I always feel better prepared if I have a checklist. Feel free to access, print and use this handy camping checklist for your next camping trip. Just click on the image below.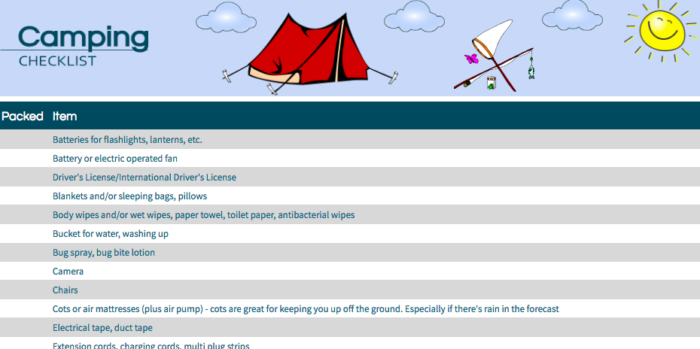 I am so glad that I had this camping checklist. Being prepared made things go so much smoother. Even with all of the rain. We were able to set up super quick and even enjoy some quiet time.
I wasn't really sure what to do with myself with all of the quiet. It was sure peaceful.
With the rain that we had, having a two tarps sure came in handy. I put one under the tent and one over the tent just for extra protection.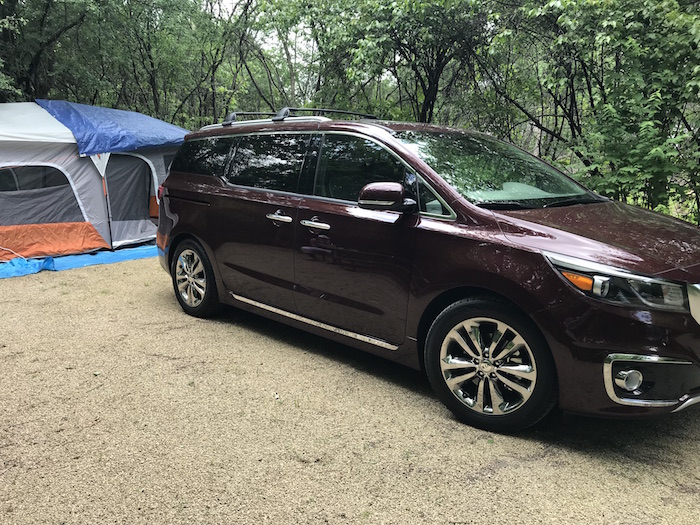 We also got a lot of use out of the battery operated fan and the lanterns. I purchased both off of Amazon before the trip.
Some of the other "must haves" from the packing list is the bug spray/fogger, an extra fan, campfire roasting sticks, etc.
The lanterns and headlamp came in handy when we trekked across the campground to enjoy a campfire with some of Caleb's teammates.
We really had a great time camping. Even with the rain, we were fully prepared having used the camping checklist. I can say that camping was a success and we are definitely planning on going camping again!
How about you? Are you a fan of camping? Is there anything missing from the camping checklist that you think I need to add?