Subscription boxes are all the rave right now! They are awesome. I don't know about you but I love getting surprises in the mail. My kids are even more excited. Especially with everything being so electronic now a days. My kids just don't get as much "snail" mail anymore. And me? I'd love to get mail that isn't bills. HA
We received a one month subscription to Creation Crate. It's SO cool. Not only will your kids receive a fun new surprise each month but it's educational. But shhh don't tell them that! 😉
About Creation Crate
We've always been frustrated with the formal education system. Students are given a ridiculous amount of information (most of it useless) and then they're expected to regurgitate it all on one or two tests. It's no wonder we remember so little of what we're taught – it's just not very effective.

Sure, we have our fancy degrees, but the majority of what we know is self-taught. We're not saying formal education is completely unnecessary – just that it's not enough! We've found that people learn best by doing; trial-and-error has been our greatest teacher.

We started Creation Crate to give people a more practical way to learn – in a subject that's not getting nearly enough attention in traditional schooling. When most people think about careers in technology, the first thing that comes to mind is programming. Not many people think about the hardware side of tech.

For most, its actually intimidating – sensors? robotics?

You'd have to be a genius to make that stuff work!

not true!

With Creation Crate, anyone can learn the basics of building electronics. We want people to see that it's not as complex as they think it is. Once you get started, it's like learning any skill – it takes time, but its doable!
Here's what came in our Creation Crate box:
Creation Crate
Our oldest daughter opened it up and began building. You know what's interesting? Our oldest son is actually taking a college level course right now and is learning the same concepts. I love that with creation crate, you can start learning those fundamentals early!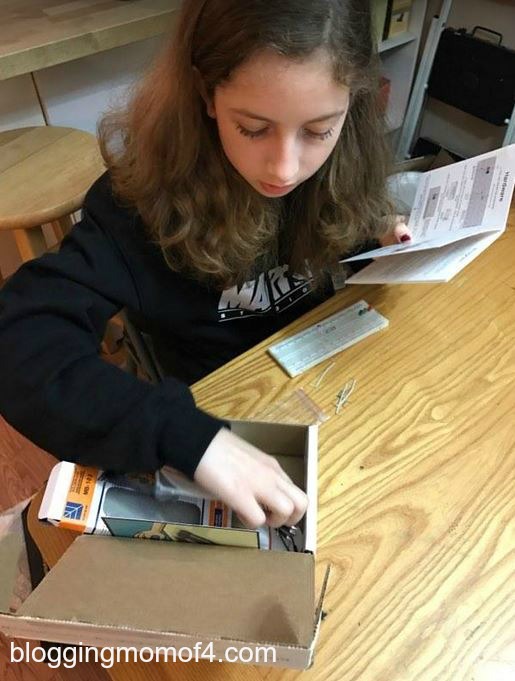 Think your kids would love learning and building electronics this way? Follow this link to check out Creation Crate. PLUS, you can also enter to WIN a 1 year subscription to Creation Crate this month. The contest will run until the end of November 24. Go HERE to enter!