Disclosure: I received a Blendtec Designer Series and Twister Jar for review purposes only.  All opinions are my own.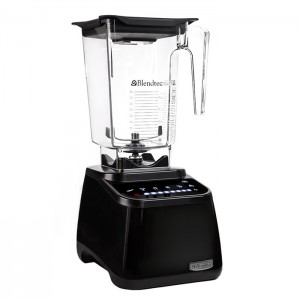 Blendtec Designer Series
Are you looking for ways to make your time spent in the kitchen easier and meals healthier?  I was too!  It doesn't matter if your favorite room to be in is the kitchen or if you've never set foot in there, Blendtec is so easy and user-friendly.  The possibilities of what you can make are endless.  Soups, breads, drinks and even frozen treats will soon be part of your everyday menu.
I recently reviewed one of the Blendtec Blenders – the Designer Series Wildside which comes with the Designer Series motor base, WildSide jar, Vented Gripper™ lid, Fresh Blends Recipe book, and of course your standard owner's manual and registration card.  It has some really wonderful features such as: complete speed control just by sliding your finger, its new sleek design, easy & fast cleanup, versatile functionality and vivid icons pictured below.
Cleaning the blender unit is a breeze with its design.  It is designed with a flat, sealed touch area and a smooth motor base.  Just by using a damp cloth to wipe the area, you'll have it looking like new again!  I love it's versatility too!  It is like having multiple small kitchen appliances in one.  It can be used as a whole juicer, meat grinder, latte machine, bread mixer, ice cream maker, grain mill, coffee grinder, milk shake mixer, and of course, blender.
Another awesome item I reviewed with my new Blendtec Designer Series was the Twister Jar.
The Twister Jar is compatible with all Blendtec consumer blenders.  It came wth the Spectacula™ spatula which is specifically designed for the Twister Jar.  It is made just the right length and shape in order to get every last bit out of the Twister Jar.
To use the jar, simply add ingredients and twist the lid counter-clockwise while the blend cycle is running. This twisting motion forces the ingredients from the sides of the jar back into the blade, allowing you to achieve a perfect blend every time.

Features include all of these unique Blendtec advantages:

Patented Twister lid
Mini Gripper™ lid for containing thinner blends
Patented single-prong tuned wingtip blade
Easy-to-read jar markings up to 32 fl oz
Durable BPA-free material that stands up to heavy use
Compatible with all Blendtec consumer blenders, not compatible with Blendtec mixers.
3-Year Warranty
Blendtec is truly the cream of the crop when it comes to blenders. I am loving how much I can do with this blender. Make sure you check it out.
Stay in the mix with Blendtec on their website, Facebook, Twitter, Pinterest, Google + and YouTube.
Topic: Blendtec