Do your kids love watching YouTube? Do they aspire to be YouTubers or Vloggers some day? They're going to love Bizaardvark!
So what exactly is Bizaardvark? Bizaardvark is a new show coming to Disney XD premiering June 24, 2016 after Adventures in Babysitting.
About Bizaardvark
The live-action comedy follows Paige and Frankie, quirky best friends who write funny songs and create music comedy videos for their online channel, "Bizaardvark." Now with 10,000 subscribers, the girls are invited to produce videos at the influential Vuuugle Studios. In this cool environment — and with the help of their friend and aspiring agent Bernie and fellow Vuuugle stars Dirk (of "Dare Me Bro!") and Amelia (of "Perfect Perfection with Amelia") — the duo embark on comedic adventures in their quest to take the video blogging world by storm.

Frankie loves to sing and play the keyboard. She has razor sharp wit and can be incredibly silly, especially when it comes to creating new characters and sketches. Paige loves to sing and plays the guitar. She is a bit more levelheaded, yet easily excitable (when she learned they made it into Vuuugle, she hyperventilated). Creating funny sketches and songs with Frankie is her favorite thing in the world.

Their fellow 7th graders began producing music comedy videos three years prior as a creative way to own their weirdness and poke fun at the challenges (and mishaps) they face growing up, including feeling like outsiders at their school, Hollander Prep. They came up with the name of their channel while flipping through the dictionary (A: aardvark. B: bizarre… Bizaardvark!). Even though many of their classmates don't quite understand their comedy, the offbeat sense of humor of "Bizaardvark" now how has a growing fan base including the girls' longtime friend, Bernard "Bernie" Schotz.

Bernie believed in the girls and their talent from the beginning. While he lacks professional experience and clients (and has a curfew), the 12-year-old budding agent has a rare confidence that gets him through even the most foolhardy deals. Whether Paige and Frankie like it or not, Bernie is sticking by them every step of the way.

Now that Frankie and Paige are part of the ultra-cool and vibrant Vuuugle Studios in Los Angeles, they are ready to take their comedy videos to the next level. Equipped with state-of-the-art technology, costumes and sound stages, Vuuugle is a creative think tank where all of the biggest (and wackiest) video bloggers come to create and produce their individual channels of success. It is here the best friends finally feel like they belong.

Fellow video blogging stars and newfound friends Amelia and Dirk help Frankie and Paige adjust to their new Vuuugle world. Amelia is the host of Vuuugle's most popular lifestyle channel, "Perfect Perfection with Amelia." The Southern DIY diva is very dedicated to teaching her fans (a.k.a. "Ameliacs") how to make a lot from a little and can sometimes be a bit preoccupied with her quest for perfection.

Dirk hosts "Dare Me Bro!" from his Dare Lair studio, he takes requests from hardcore fans who dare him to do crazy and weird stunts, such as head-butting a ram or jumping on a pogo stick for a week straight. Dirk enjoys living life as a daredevil, but he also has a big heart and is always there for his friends.

With each adventure and video, Frankie and Paige, along with Bernie, Dirk and Amelia, learn to laugh at themselves, tackle adolescence, the ups and downs of friendship and the crazy world of video blogging, all while trying to stay true to themselves and following their dreams.

Starring are Olivia Rodrigo (American Girl's "Grace Stirs Up Success") as Paige Olvera, Madison Hu ("Best Friends Whenever") as Frankie Wong, Jake Paul (YouTube Red's "Dance Camp") as the lovable and wild Dirk Mann, DeVore Ledridge as Southern DIY diva Amelia Duckworth, and Ethan Wacker ("Miles from Tomorrowland," "K.C. Undercover") as the overly-confident Bernard "Bernie" Schotz.

The multi-camera series was created by Kyle Stegina and Josh Lehrman who were participants in Disney Channel's inaugural Storytellers program, which fosters creative ideas and develops the next generation of series creators and writers of programming for kids, tweens and families. Executive-produced by Eric Friedman ("Austin & Ally," "Crash & Bernstein"), and co-executive produced by Michael Curtis, Roger Schulman, Kyle Stegina and Josh Lehrman, "Bizaardvark" is a production of It's a Laugh Productions, Inc. and carries a TV-G parental guideline.
We were able to preview the first episode. It's cute, funny, the characters are very likable and I think our kids growing up in this social media age will definitely be able to relate to them. Most kids now a days are either already vlogging, on YouTube or aspire to make videos on YouTube.
After the screening, we also got to tour behind the scenes and watch a bit of rehearsal. It's so much fun to see what all goes into making of a TV show. Here are a few pics to give you an idea.
Behind the Scenes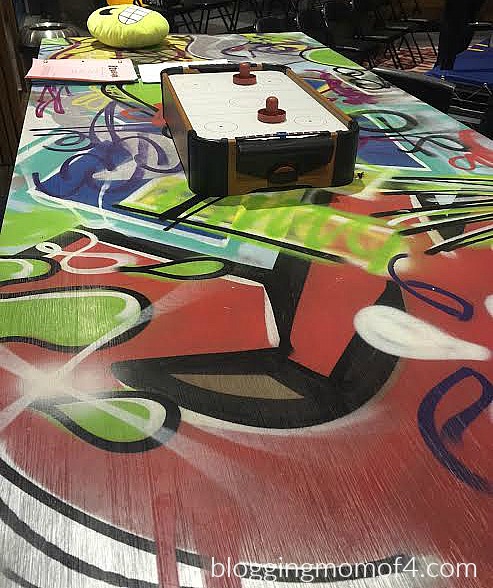 Let your kids know, set your DVRs. Bizaardvark premieres on Disney XD June 24th!