Have you seen Disney Channel's Bizaardvark? We got to chat with the cast, including Jake Paul, creators, and tour the set. Take a look.
First, we were introduced to Bizaardvark by the creators Kyle Stegina and Josh Lehrman.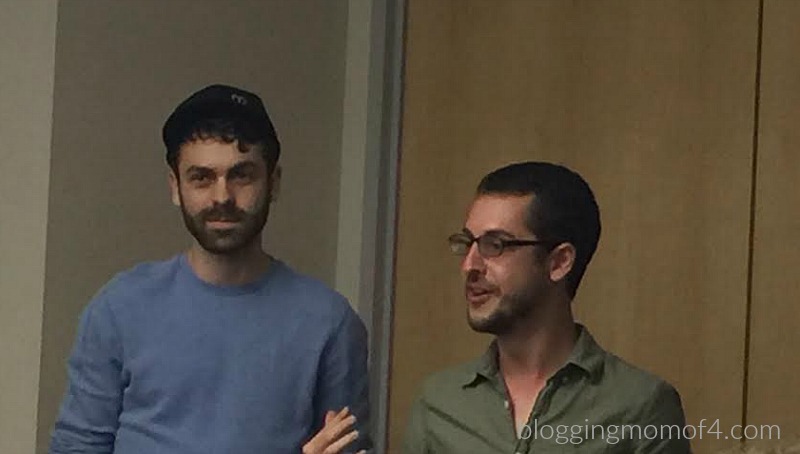 In talking about the first episode, Josh said that "I think we really related to it a lot because it's centered on where do I belong which I think it's such a huge topic at this age. We're still trying to figure that out […] where do you fit in? And for these two girls, Paige and Frankie, it happens to be VUUUGLE. Paige and Frankie are two really creative young comedians who find their salvation in VUUUGLE.

They go to this school where they don't fit in and […] VUUUGLE is basically are our version of YouTube. And why it's so important for them is that it's this bastion of strange, weird creativity. It doesn't need to be creativity. It's really everyone is welcome for what they do which is like one of the central themes of YouTube and I think the Internet in general is that everyone is welcome to do their own thing. Or you know what's your niche and what do you do when everyone's celebrated for that? Because really no one does the same thing.

And that was one of our goals too when we were creating this show is we were trying to create a different type of girl for the Disney Channel. Throughout the episodes of the show these are two girls who are very creative. Their focus is not on boys. You know when we showed this pilot to kids they really responded to the idea of these kids embracing their weirdness. And lots of kids were like, I'm weird too.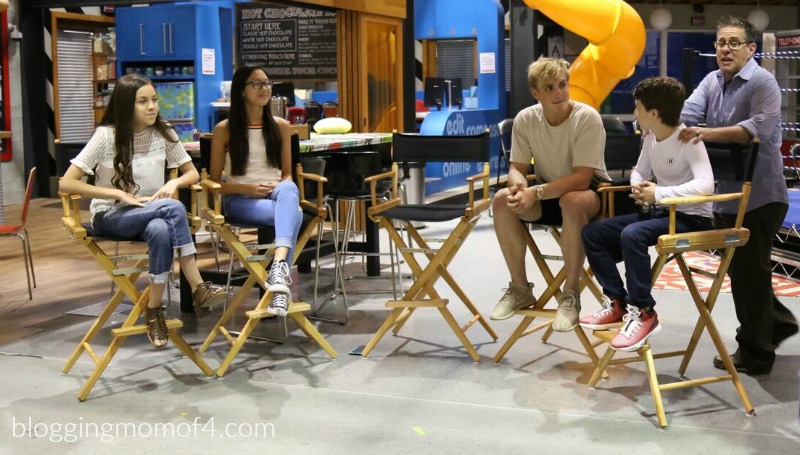 Bizaardvark producer, Eric Friedman.
I got drawn to this project after the pilot phase. Josh and Kyle created the pilot but I created Crash and Bernstein for Disney. And I've also worked on Austin & Ally and I'm in the Band and a few other shows for another kids' network that I've never heard of. [laughs]

I've been in the kids', writing for kids for about 10 years. So I love it. It's super fun and this show is just like the greatest show. Our cast as you can see is just incredible.
After talking with Bizaardvark creators, we got to screen the first episode. It's a very cute and funny show. With our kids growing up in the YouTube and social media age, I think they are going to love it. I mean really, how many of our kids want to grow up and be YouTubers? Mine do!
Then we were able to sit down and talk with the cast. Such a great group of kids!
Bizaardvark Cast, Madison Hu, Olivia Rodrigo, Jake Paul, DeVore Ledridge, and Ethan Wacker
Jake Paul talking about his tips for being successful.

Be consistent. Find your niche. Create that brand.
How much can you relate to your character?
Olivia and Madison both said that they can relate to their characters, Paige and Frankie.
Madison: I brought parts of myself.

Olivia: I can relate to being kind and awkward.
Devore says she's "very creative." Jake says he can "definitely relate" to his character, while Ethan says he "half and half" relates because he's "optimistic and open-minded."
What did the cast say when we asked why families should tune into Bizaardvark?
It is something brand new, it's social media oriented, and shows you can follow your dreams.
"Bizaardvark" moves to its regular time slot with the telecast of its second episode "Draw My Life," on SUNDAY, JULY 10 (8:30 p.m. EDT) on Disney Channel. In this new episode, Amelia gives Frankie and Paige tips to produce their next video, which has to tell the story of how the two met and created their channel. Meanwhile, Bernie tries to help Dirk overcome his worst fear.