Thank you to Oh! Toys for participating in our 2016 Holiday Gift Guide with the Bibros Building Blocks. Click here for more information on our gift guide.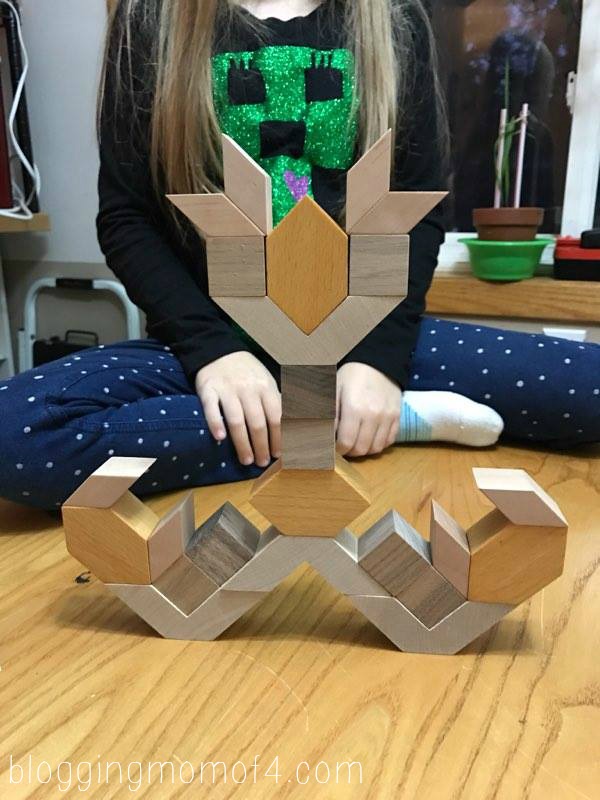 Let your children stretch their imagination with these building blocks. When my kids were younger we always kept building blocks on hand so that they could create farms, buildings, shops, and cars among other things. When they use their minds, the possibilities are infinite.
Bibros Blocks – small scale, elegant shapes in a variety of hand finished hardwoods. Perfect for desktop or small play area. The extraordinary but harmonious language of colors and shapes offered by Bibros is appealing and natural. Four types of European wood (nut tree, wild service tree, maple, and oiled beech wood) lend their colors to four different forms of block, giving room for imagination to arrange and build little structural works of art.The unusual shapes and natural colors allow for construction and contrasting designs. Lay them flat for a pattern or go vertical! 24 pieces. Ages 5 and up. Designer: Yasuo Aizawa

Faith absolutely LOVED the Bibros Building Blocks. A booklet with designs comes with the building blocks but instead of using it at first, she jumped in creating her own designs. I love that! She sat there for a long time just creating different designs. Then she followed one of the patterns in the book.
How cool is that?! Teaching creative thinking without them even realizing it! Love it! We were able to try out 3 different products from Oh! Toys and loved every one. High quality toys and teach such valuable skills. Problem solving and critical thinking are skills we all use on a daily basis. Let them learn through play.
Want to try out Oh! Toys? We've got a great coupon code just for BMO4 readers. Grab it below!
Save 11% at Oh! Toys
Use Code BM4HG to receive an 11% discount on all merchandise sales (and ground shipping on orders over $90 is free, as always).

About Oh! Toys
Toys that satisfy your gifted and creative child's need to explore, invent and think!

Searching for something safe, unusual and unique in building blocks, marble runs, wooden toys and puzzles that stimulate your child's imagination? You've come to the right place. Our mission is simple: find cool stuff that's hard to find, and make it available to you. We hope you enjoy your visit!

Cool, Hard-to-Find Toys that Stimulate your Child's Sense of Play, Fun and Creativity!

Our toys are developmental, stimulate creative thinking and are beautifully made – and made to last. Our collection of European and Japanese toys ranges from kinetic toys and marble runs to unique wooden blocks and construction toys to hand-crafted tops to challenging puzzles, Oh! Toys has looked for the unusual, "out-of-the-mainstream" products that you and your children will play with and remember for a long time.