Thank you to Toddy Gear for participating in our Holiday product Guide and providing us with the best tech gifts to try out.
Ok, raise your hands… who loves tech gear? Are you raising your hand? Yep, me too! And I can bet that we each have some people on our gift lists that love them some tech gear too, am I right?
I received a few awesome tech gadgets from Toddy Gear. They have some of the best tech gifts!
These are some of my new favorites!
360° UNIVERSAL CAR MOUNT
Never miss an important call or turn again while driving safe and styled with the Universal Car Mount. Designed universally for any device, attach this car mount to a flat surface on your dashboard for safe and styled driving.
I have been trying to find the perfect car mount. I've tried several and this is the best one yet, in my opinion. I love how convenient and easy it is to use. You just add a small magnet to the back of your phone or phone case, attach the other magnet mount to your dashboard. That's it! Super easy to place your phone on the mount.
Plus, it comes in some pretty cool designs!
THE WEDGE PHONE STAND & SCREEN CLEANER
Give your smartphone a rest. For the convenience of binging your next Netflix show, following along with your favorite recipe or keeping your phone front at center at work, cradle your smartphone on this dual-purpose beanbag-like phone stand and screen cleaner.
I love this phone stand. I tend to keep my phone right next to me while working so this is perfect. I can easily see if I have a new message, etc by just glancing over.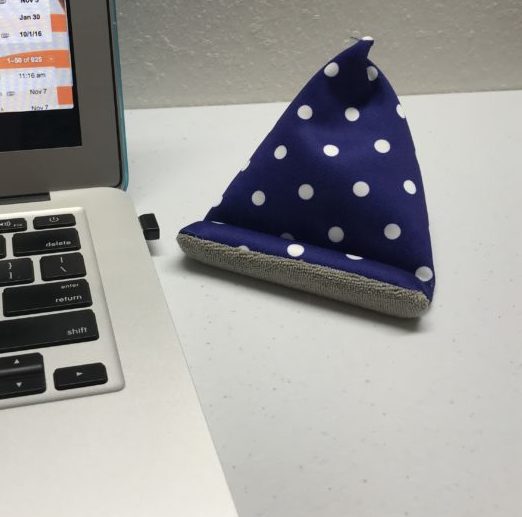 It also works great for iPads.. ie: sitting in bed at night watching something on your iPad. This beanbag phone stand worked perfect!
Last, but not least, we all could use a bit more cable organization. Whew, cords everywhere!
I also tend to keep at least 2 pair of headphones next to me while working. One that works with my laptop and another that works with my iPhone 7. The cords can become such a mess! Toddy Gear has a solution!
TODDY TIE CABLE & CORD ORGANIZER
No more messy cords shoved in pockets and bags or left on your desk in a disorderly mess. Toddy Ties eliminate the tangled mess cords and cables make, providing a convenient, rubberband-like holder with a snap in the middle to keep them organized, letting you concentrate on more important things.
These cord organizers also come in a ton of fun designs.
Check out Toddy Gear for more of the Best Tech Gifts! I'm sure you'll find something for everyone on your list. What's your favorite Toddy Gear tech gadget?