Thank you to PeachSkinSheets for participating in our Spring Product Guide and providing the best sheets for hot sleepers, cool sleepers, all sleepers.
The calendar says it's spring but the weather here is all over the place. We go from needing an extra blanket to shedding all the blankets. Boy does Mother Nature need to figure it out.
Thankfully we have our PeachSkinSheets to keep us comfortable.
Best Sheets for Hot Sleepers, Cool Sleepers, ALL Sleepers!
The Original PeachSkinSheets are GREAT for hot sleepers! Breathable, ultra soft, anti-pill and anti-snag bed sheets featuring thermal control and moisture management properties…warm sleepers stay cool, and cool sleepers stay cozy. The durable athletic grade performance SMART fabric wicks away moisture to keep you drier and more comfortable. Best of all, they have a luxurious 1500 Thread Count softness with a brushed PeachSkin finish on both sides. Available in Split King, Cali King, King, Queen, Full, Twin and XL Dorm Twin and XL Dorm Full.
I was so spoiled with my first set of PeachSkinSheets that I just refuse to sleep in anything else. There's just nothing like the feeling of these sheets.
My kids envied my sheets so much they started begging for their own PeachSkinSheets. Faith was the first to get a set. She loves them and literally won't leave home without them. 😉 She recently had a doctor appointment. Her doctor is 2 hours away. She, of course, wasn't looking forward to going and refused to get out of bed. I told her that she could sleep in the car, to which she replies, "I want to sleep in my PeachSkinSheets." We ended up taking her pillow with her so she could still have her PeachSkinSheets.
Abbie was the next and latest to get her own set of PeachSkinSheets. With the amazing quality and easy care of these sheets, I love having PeachSkinSheets on every bed.
They are not only super soft but easy to take care of with the wrinkle release. It's activated in the dryer on medium to medium/high heat in about 20 minutes after washing. You can see how smooth the sheet is.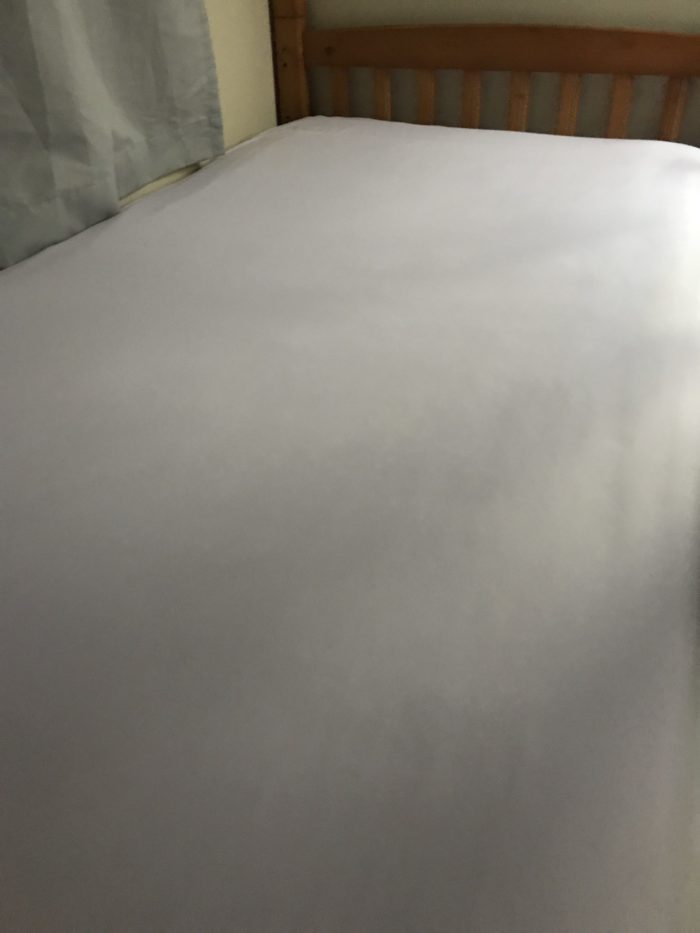 The pillow case is also smooth but she has a clunky, chunky pillow. 😉
Prices start at just $55 with the Colors of the Month. Regular sale price is $79.95 for any size set while Split King/Adjustable Bed specialty sizes are $99.95. There are some beautiful colors to choose from but if you're not sure which color is right or will match, make sure to take advantage of their free swatch program.
I tell you… EVERYONE in the house loves these PeachSkinSheets!
You can't leave your pillow anywhere or your sheets open or the animals will take advantage. 😉
Grab yourself a set of PeachSkinSheets for every bed in your house. You will thank me. They truly are the Best Sheets for Hot Sleepers, Cool Sleepers, ALL Sleepers! You'll never use anything else again.
Visit PeachSkinSheets on Facebook and on Twitter:
Facebook: https://www.facebook.com/Peachskinsheetscom
Twitter: https://twitter.com/PeachSkinSheets