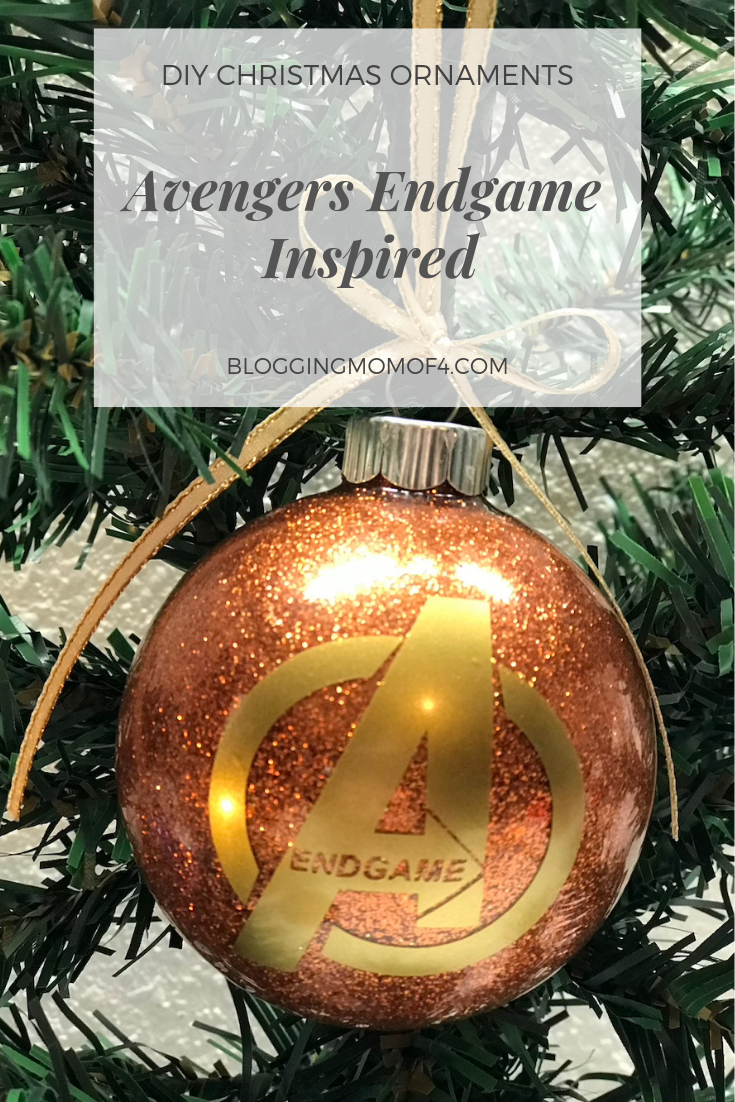 I really loved making the DIY Disney Inspired Princess Christmas Ornaments and I fully plan on making more. However, when the new Marvel Avengers Endgame trailer hit, I decided I needed to switch gears and create an Avengers Endgame Ornament.
Avengers Endgame Ornament – Marvel's Avengers 4 Inspired
I had created several colors in the glitter ornaments so I chose one of those to use. There are a lot of colors you can use for an Avengers Endgame ornament but I decided to use the orange glitter bulb with gold design.
For more info on how to make the glitter bulbs, you can refer to this post: DIY Disney Inspired Princess Christmas Ornaments and for more tips on how to apply the vinyl to the round bulbs, you can watch the YouTube video here: Tips for applying vinyl.
I have provided the cut file I made and used. You can download it here ( Avengers Endgame Ornament cut file ) or by clicking the image below.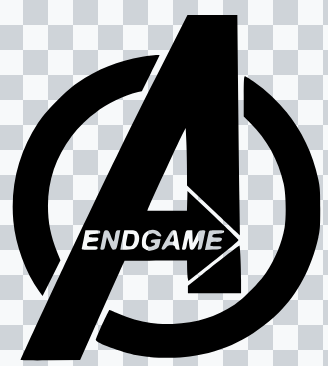 Once you upload it into your Cricut or Silhouette, you might want to highlight the file and make the lines red. That helps me see the design a bit better and tells the machine where to cut. I'm using a Silhouette here so I'm not sure if it's the same in the Cricut software.
I've made my design right around 2×2. You can adjust based on the ornament you are applying the design to.
The other thing that I've noticed when uploading any cut file, is that the "no cut" is automatically selected. So make sure you select "cut" and then the correct settings for vinyl, glossy.
Another tip that I frequently do to save from wasting vinyl is to place a box around my design before I cut it. That way, I can run the full sheet of vinyl through for my next design.. just moving the design over if that makes sense.
Here's what my sheet looks like after I've weeded the design. See how drawing the box around the design made it so I didn't actually have to cut out that section?
Once weeded, I then apply the transfer and peel up the design.
Carefully line up your design on the transfer tape and start applying to the ornament starting in the middle.
This design actually goes on a bit better if you either cut the pieces of the design a part and apply separately. Or place a few cuts in the design as you go.
Then just manipulate the design as you go around, making adjustments as needed. If you're still having some trouble, you can try applying a little heat to soften the vinyl. Sometimes, just using your thumbs to smooth as you go will provide enough heat.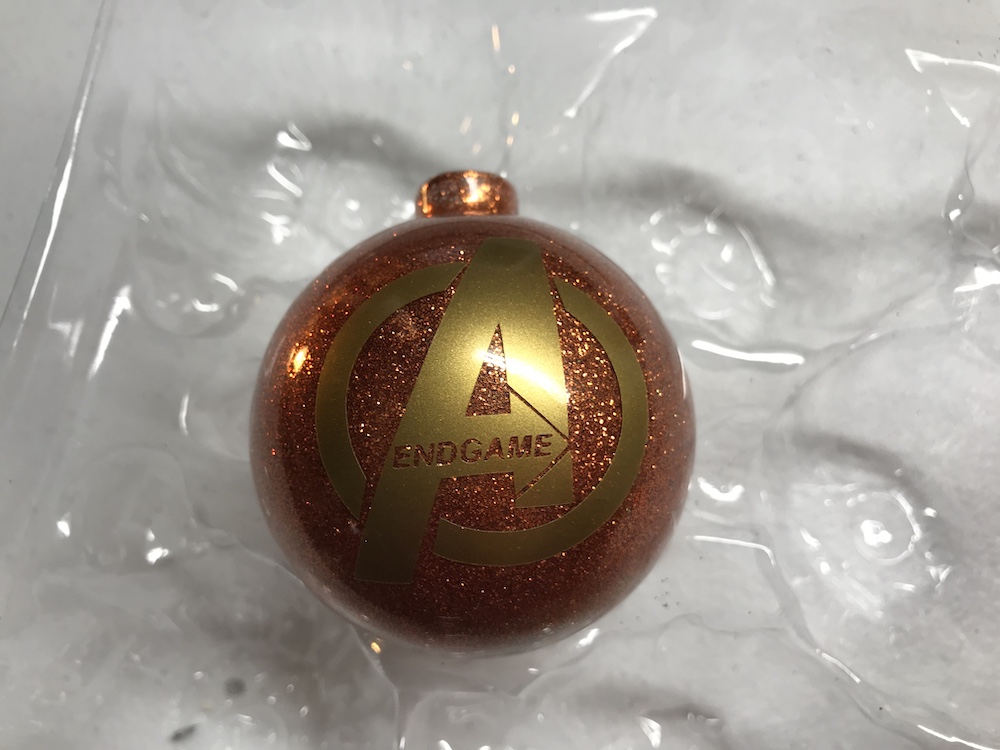 The orange glitter bulb with the gold design turned out pretty sweet looking!
Finish with ribbon for the hanger and a small bow.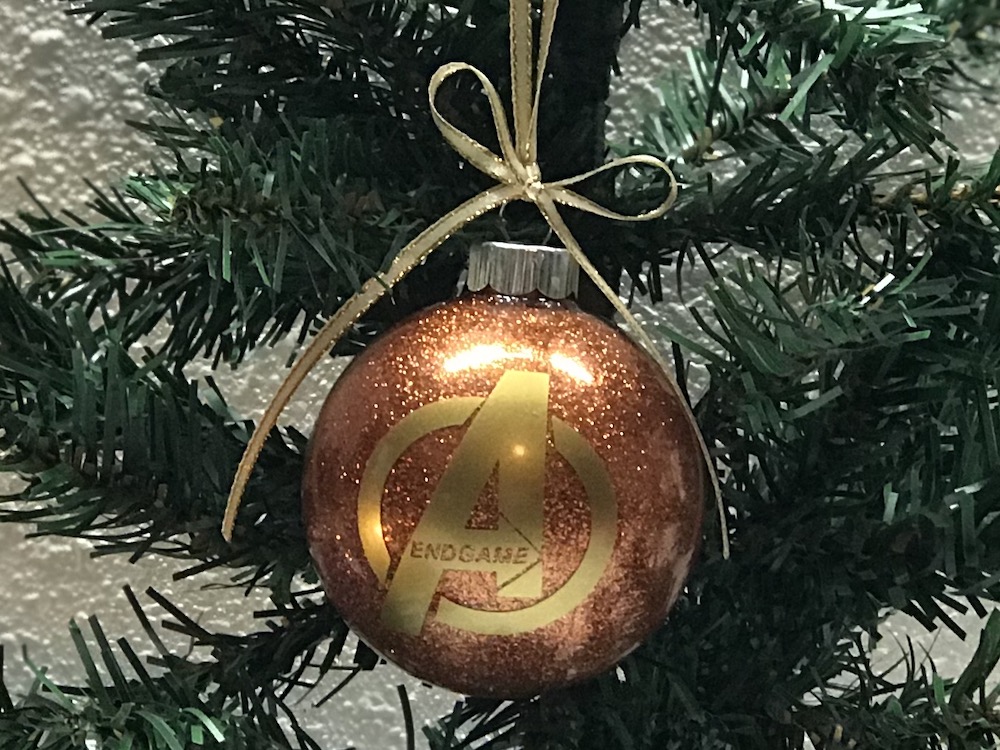 I LOVE how this turned out. I might have to make a few more Marvel Heroes ornaments before going back to Disney Princesses. 😉 What do you think? What should I make next?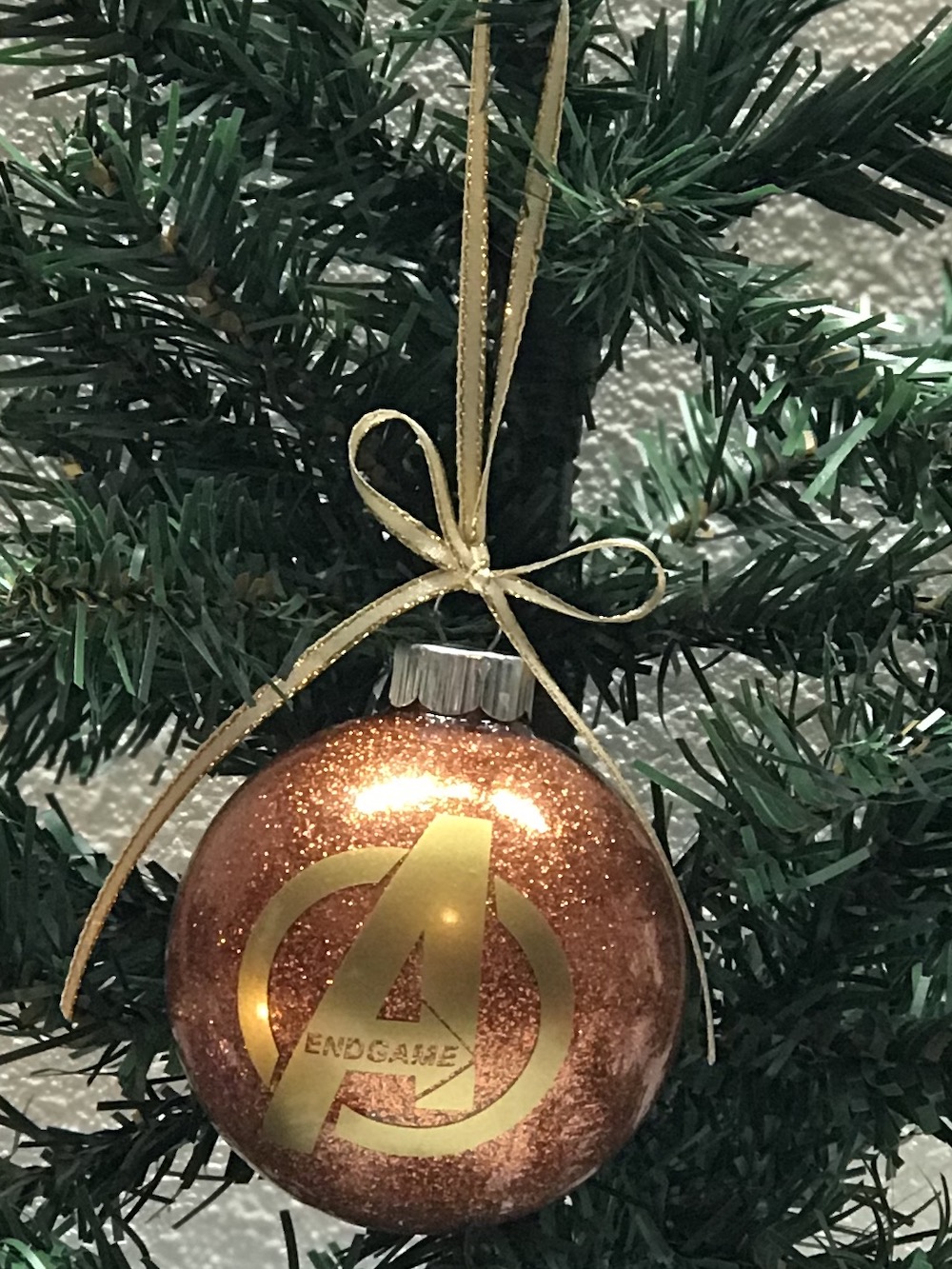 On a side note, have you watch the Avengers 4 / Avengers Endgame trailer yet? It's amazing! You can watch the trailer and see Abbie and me react to it on our Avengers 4 Trailer post.