Looking for a great Almond Flour Pumpkin Pancakes recipe?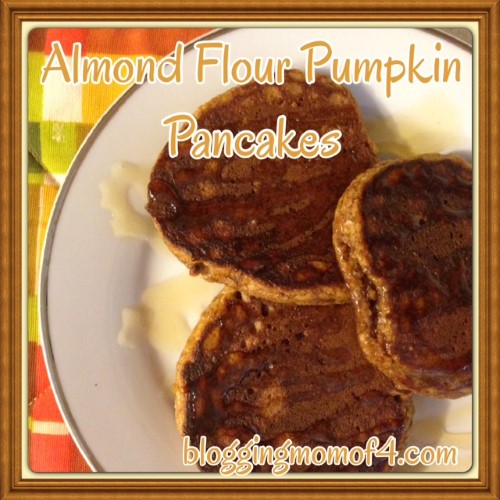 Pumpkin pumpkin everywhere! I love it when fall hits and the pumpkin flavors start coming out in everything. Yum! It's one of my favorite things about fall. That and the fall colors. Just so pretty!
Our fall doesn't seem to be wanting to last very long. We had one beautiful week of 70 degree weather and then we seemed to skip straight to winter. Brrrrrrr! But I'm still going to take advantage of pumpkin flavored recipes.
So on to the recipe. This is such a great recipe for those of us trying to cut out grains from our diet. I made a double batch of these so that I would have left overs. I made a few left over pancakes and then am storing the rest of the batter in the refrigerator so that I can make more fresh Almond Flour Pumpkin Pancakes tomorrow.
The almond flour does make the pancakes a little more "gritty" than regular flour but I can deal with that as long as they taste good and I can cut out grains. 🙂
Almond Flour Pumpkin Pancakes
Ingredients
1

C

Almond Flour

3

Eggs

6

T

canned pumpkin

4

T

almond butter

1

T

honey

1

t

pumpkin pie spice

1/2

t

baking powder

1/2

t

vanilla extract
Instructions
Combine all ingredients and still until blended.

Pour batter onto a low heat griddle or pan sprayed with cooking spray.

Cook for a few minutes on each side. (I wait until the edges firm up before trying to flip).
I drizzled honey over mine and they were delicious. You can put whatever topping you'd like. I didn't have any whipped cream on hand but I think topping with whipped cream would be perfect.
Enjoy!
Topic: Almond Flour Pumpkin Pancakes