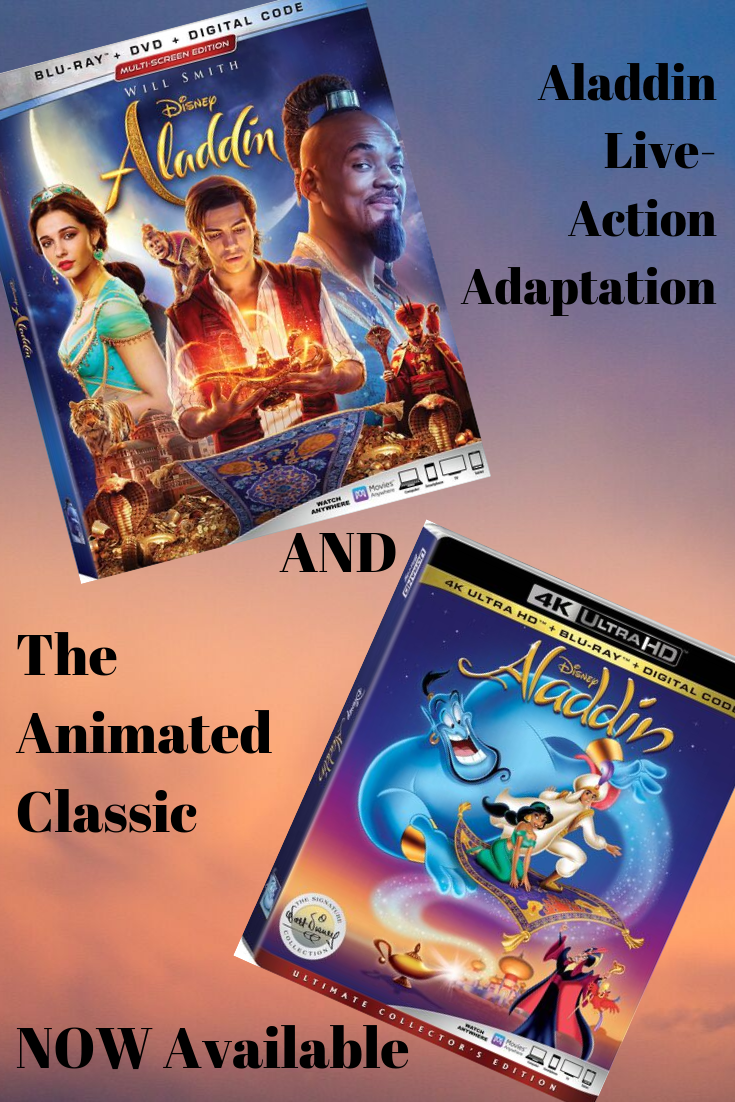 I have always loved The Animated Classic Aladdin. Such a great story, full of adventure, and a great musical soundtrack. I admit, when I heard of the live-action Aladdin in production, I was a little hesitant. How could they do a live-action and do Aladdin justice. And how could Will Smith possibly be a good Genie?
Well you know what, they pulled it off. Live-action Aladdin is fantastic. I love the actors and the soundtrack is amazing. As for Will Smith… yep, he did an amazing job too!
Now you can watch both Live-Action Aladdin and the Animated Classic on Digital, Movies Anywhere and 4k Ultra HD, Blu-ray and DVD. Get your copies today!!
Experience magic in a whole new way with the thrilling and vibrant live-action adaptation of Aladdin AND The animated classic, Aladdin, joins the highly celebrated Walt Disney Signature Collection

The live-action adaptation of the animated classic, Aladdin, lands in homes on Digital and Movies Anywhere August 27 and 4K Ultra HD, Blu-ray and DVD September 10. Starring Will Smith, Naomi Scott and Mena Massoud, the release includes all new bonus features, such as deleted scenes, a blooper reel and more!

The release of the live-action adventure coincides with the addition of the original animated classic to the highly celebrated Walt Disney Signature Collection, granting Aladdin fans everywhere the opportunity to own both magical movies. In 4K for the first time, the new release features all new bonus content, including alternate endings!

Disney Aladdin Arrives on Digital 4K Ultra HD™ and Movies Anywhere Aug. 27
and on 4K Ultra HD and Blu-ray Sept. 10


Extras illuminate a whole new world behind the scenes of "Aladdin," including on-set visits with Will Smith, Naomi Scott, Mena Massoud and Guy Ritchie, a deleted song, deleted scenes and side-splitting bloopers

BURBANK, Calif. (July 25, 2019) — Disney's "Aladdin," the thrilling and vibrant live-action adaptation of the studio's animated classic, lands in homes on Digital in HD, 4K Ultra HD™ and Movies Anywhere on Aug. 27, and physically on 4K Ultra HD, Blu-ray™ and DVD on Sept. 10. Fans of all ages will enjoy the exciting, humorous tale of the lovable "street rat," Aladdin (Mena Massoud), courageous and self-determined Princess Jasmine (Naomi Scott) and the larger-than-life Genie (Will Smith) with all-new bonus features. The release of the live-action adventure coincides with the addition of the original animated classic to the highly celebrated Walt Disney Signature Collection  —  granting "Aladdin" fans everywhere the opportunity to own both magical movies.

Extras explore elements of "Aladdin" that audiences adore, from the film's treasured, iconic award-winning music to its beloved characters and their hilarious antics on and off screen. Viewers get the first look at an all-new song "Desert Moon," deleted from the final film, written by eight-time Academy Award® winning composer Alan Menken and Oscar®-and Tony Award®-winning songwriters Benj Pasek and Justin Paul ("The Greatest Showman," "La La Land"). Features document Guy Ritchie's joyful, easy-going approach to directing that led to movie magic; Will Smith's fresh take on the infamous shape-shifting blue entity confined to an oil lamp; Naomi Scott's powerful performance as the spirited princess who yearns to lead the people of Agrabah; and the indescribable feeling of playing Aladdin chronicled personally by Mena Massoud. Deleted scenes and a blooper reel round out the fun.

In addition, early owners of "Aladdin" gain access to exclusive bonus features. Fans who pre-purchase will receive a feature showcasing the making of the massive musical number "Prince Ali," and those who bring home the film first on Digital will secure an exclusive extra detailing the creation of Jasmine's new song "Speechless."

"Aladdin" is sure to become an instant classic for viewers of all ages and will be packaged several ways to ensure the entire family gets the most out of its in-home entertainment experience. The film arrives two weeks early on Digital 4K Ultra HD and HD. A Digital bundle, which includes both the Walt Disney Signature Collection edition of the original animated classic "Aladdin" and the live-action adaptation, is also available for early purchase. A physical copy of the film will be released as a 4K Ultimate Collector's Edition (4K Ultra HD, Blu-ray, and Digital Code), a Multi-Screen Edition (Blu-ray and Digital Code) and a single DVD.

Bonus features include*:

DIGITAL PRESELL BONUS:

MAKE WAY FOR PRINCE ALI – Take a look at the gigantic design extravaganza that came together for this scene of Genie-sized proportions.

DIGITAL EXCLUSIVE BONUS:

"SPEECHLESS": CREATING A NEW SONG FOR JASMINE – Follow the story of Jasmine's inspirational song "Speechless," written by Alan Menken, Benj Pasek and Justin Paul especially for this version of "Aladdin."

BLU-RAY & DIGITAL BONUS:

ALADDIN'S VIDEO JOURNAL: A NEW FANTASTIC POINT OF VIEW – Watch behind-the-scenes moments captured by Mena Massoud (Aladdin) in this fun, fast-paced look at his personal journey.
DELETED SONG: "DESERT MOON" – Experience a moving duet performed by Jasmine and Aladdin, fully shot and edited, with an introduction by Alan Menken.
GUY RITCHIE: A CINEMATIC GENIE – Discover why director Guy Ritchie was the perfect filmmaker to tackle this exhilarating reimagining of a beloved classic.
A FRIEND LIKE GENIE – Discover how Will Smith brings talent, experience and his own personal magic to the iconic role of Genie.
DELETED SCENES

Falling Petals Into OJ
Jafar's Magic Orrery
Anders' Gift
Wrong Wishes
Silly Old Fool
Post Yam Jam Debrief

BLOOPERS – Laugh along with the cast and crew in this lighthearted collection of outtakes from the set.
MUSIC VIDEOS

"Speechless" – Music video performed by Naomi Scott
"A Whole New World" – Music video performed by ZAYN and Zhavia Ward
" A Whole New World" ("Un Mundo Ideal") – Music video performed by ZAYN and Becky G.

*Bonus features may vary by retailer